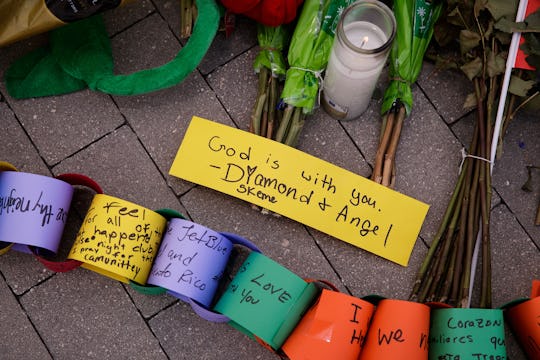 Drew Angerer/Getty Images News/Getty Images
Who Is Antonio Davon Brown? The Orlando Victim Was A 'Down-To-Earth' Army Captain
Chances are, you might not have heard of him before Sunday. He wasn't an actor, he wasn't a singer, he wasn't a reality television star. He wasn't famous for anything, really, and maybe didn't have any aspirations to be "known." But we want to make sure he is "known" from this day forward. Who is Antonio Davon Brown? He was a victim of the Orlando shooting on Saturday.
Antonio Davon Brown was a captain in the United States Army Reserve. He was a 29-year-old graduate of Florida A&M University who took criminal justice at the Cocoa Beach campus, and his friends described him as a "down to earth, good guy." He joined the U.S. Army Reserve in 2008, serving in Kuwait from 2010-2011. He worked in Human Resources for the Army Reserve and was appointed Captain in March 2012.
Brown was at the LGBT nightclub Pulse in Orlando on Sunday night when gunman Omar Mateen, of St. Lucie County, opened fire on over 100 people inside, killing 49 and injuring 53 people.
According to Elly Baily, a close friend of Brown, Antonio was a "kind, gentle" soul who smiled a lot. The two had been having dinner together on Saturday and made plans to spend time together on Sunday, according to The Orlando Sentinel.
The last time Baily saw her friend Brown, he was going out with some other friends for a night on the town. According to The Orlando Sentinel, Baily texted her friend on Sunday after she heard about the shooting. "I hope you weren't at the club," she wrote.
She never heard from him again.
By all accounts, Brown took great pride in his military involvement. From his years in the ROTC during university to his time serving his country overseas, friends and colleagues remember him as a good man. One such friend took to Twitter to remember Brown.
"I can hardly breathe," she tweeted. "I never thought any one of us from Class of 08 would die young. We all came back from war safely. He killed my friend, my battle buddy."
Antonio Davon Brown's name joins far too many names of other victims. Mothers and sons, lifelong loves, young students standing at the precipice of a great big life. His story wasn't finished, not by a long shot. None of their stories were finished. And it's up to us to do our best to continue telling their stories. To remember them, to know their names like we know the names of our children, our brothers and sisters, our friends.
We will tell their story.