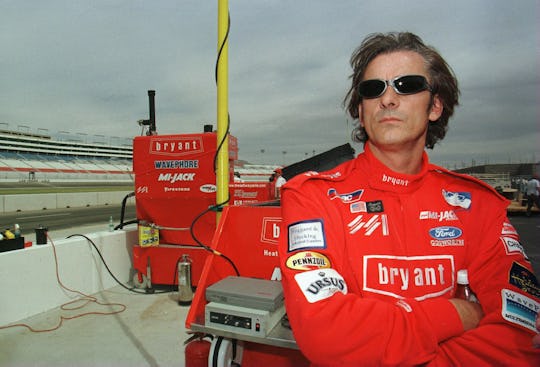 David Taylor/Getty Images Sport/Getty Images
Arie's Dad Helped To Inspire 'The Bachelor's Career
The Bachelor's Arie Luyendyk Jr. isn't the only man to make a name for himself behind the wheel of a race car. He was actually following in the footsteps of another Arie Luyendyk: his father. Learning who Arie's dad is on The Bachelor makes everything about Arie Jr.'s chosen career path suddenly make a lot more sense. Arie Luyendyk Senior was a success on the track long before his son ever picked up a pair of driving gloves. (Do race car drivers really wear gloves, or did the movies lie to me? Inquiring minds want to know.)
Luyendyk Sr. hails from the Netherlands, where Arie was also born, and that led to his racing nickname: the Flying Dutchman. Much like his son Arie, racing was something Luyendyk Sr. started as a teenager because he grew up around cars; his father owned a garage and raced as well. In fact, Grandpa Luyendyk could be considered responsible for both Aries taking part in racing: it was thanks to him that Arie Jr. took up the hobby in the first place.
Luyendyk Sr. started racing in the 1970s, but it was a few decades before his career truly took off. According to a 1990 article from Sports Illustrated, Luyendyk's win at the Indianapolis 500 that year changed things for him and earned him his Flying Dutchman nickname; previously he'd been occasionally called Arie Lightfoot because he hadn't quite made an impact yet. However, in 1990, Arie's dad broke Bobby Rahal's 1986 record average speed and set the record anew with his own. The same Sports Illustrated article quoted Luyendyk as saying, "I said to myself, 'If you're not going to win races now, you better look at doing something else."
He would go on to win the Indy 500 again in 1997.
But Luyendyk Sr. had had successes before his 1990 win at the Indy 500, despite his first (and much shadier) "Lightfoot" sobriquet. He had a string of wins relatively early in his career in the 1970s, winning the Dutch Formula Ford competition in 1973, the European Formula Ford competition in 1975, and the European Super Vee competition in 1977. Even though he didn't win his first attempt at the Indy 500 in 1985, he did finish in seventh place and snag the "Rookie of the Year" award.
"Indianapolis has been nothing but positive for me, I have to say," Luyendyk Sr. told People in 2017 after the announcement that Arie would be the next Bachelor, adding:
I have pride in being able to be a guy who was able to win races but also go fast in qualifying, and in that regard, be versatile. I know a lot of guys who were really good racers at Indy, but they didn't care for qualifying. They didn't want to hang it out, they didn't want to run low downforce. I always enjoyed putting together that one phenomenal lap.
Luyendyk retired from racing in 1999 after another attempt to win the Indy 500 resulted in a narrow loss. He was inducted into the Motorsports Hall of Fame of America in 2014, cementing himself among other greats in his field. When he wasn't focused on his professional career, he was spending time with his wife Mieke, son Arie, and three other children Maida, Alec, and Luca. They relocated from the Netherlands to Arizona when Arie was a toddler and still live there today.
After seeing how well he performed as a driver, it's no surprise that his son would end up following in his footsteps. Arie couldn't boast quite as many wins as his old man, but he's still got plenty of time to try. Maybe finding love will prove to be just the boost he needed.
Check out Romper's new video series, Romper's Doula Diaries:
Watch full episodes of Romper's Doula Diaries on Facebook Watch.