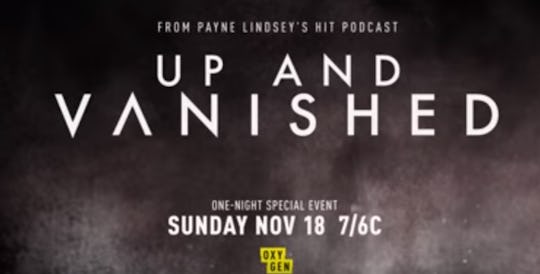 Oxygen/YouTube
What You Need To Know About Ashleigh Merchant From 'Up & Vanished's TV Special
I am a tiny bit obsessed with true crime, which is why I love being alive in 2018. After years of keeping my obsession to myself, it seems like everyone is suddenly jumping on board with true crime and embracing it for what it is. A deep seated need to solve mysteries and understand why some people's minds work differently. And of course, seeing justice served. In the case of the new Up & Vanished special, there are a whole host of characters behind the story. One of whom is Ashleigh Merchant, a criminal lawyer tasked with the defense of murder suspect Ryan Duke.
For those of you who might be new to the story, the Up & Vanished special (which will air on Oxygen on Sunday night, Nov. 18, at 7 p.m. EST) is the continuation of the popular podcast of the same name by Payne Lindsey. As with so many other stories, Lindsey began looking into the disappearance of former beauty queen and school teacher Tara Grinstead in 2005 from her small town of Ocilla, Georgia.
After Grinstead went missing, investigators struggled to find evidence that would definitively point to a suspect and the case went cold. That is until Atlanta-based director Lindsey made the decision to start digging into the case as an amateur investigator in the hopes of creating a true crime documentary. And he ended up doing so much more.
Lindsey spent time interviewing local people and looking back into Grinstead's disappearance, and through his investigations he managed to help reignite interest in her case. So much so, in fact, that the Georgia Bureau of Investigation arrested two suspects in the case in February 2017, according to the podcast.
One suspect, Grinstead's former student Ryan Duke, is now being represented by criminal attorney Ashleigh Merchant.
When Duke was initially arrested, according to the Atlanta Journal-Constitution, he was being represented by public defenders. But apparently Atlanta-based criminal attorney Ashleigh Merchant and her husband, John Merchant, believed so strongly in his innocence they decided to take on the case, as she told the Atlanta Journal-Constitution:
We decided to take the case because we believe in his innocence. We know Ryan wants his story told and we want to help him tell it. He has been demonized and we want to help the truth come out.
This isn't the first time Merchant — a "human rights advocate and firm believer in defending the rights of the criminally accused," as she notes on her website — has been in the media with her job. She is a regular contributor on the podcast Breakdown for the Atlanta Journal-Constitution, and was also admitted into the Georgia Super Lawyers Rising Stars in 2014, which is comprised of the top 2.5 percent of lawyers.
As for her client Ryan Duke, Merchant is doing her due diligence. According to WALB News, she recently requested a change of venue for the high profile case in order for her client to get a fair trial, and has also asked that a private investigator be given the case files for Grinstead's disappearance to get a better picture for what might have happened 13 years ago.
This is the fascinating thing about true crime podcasts: they offer people a chance to finally get some answers in cold cases.