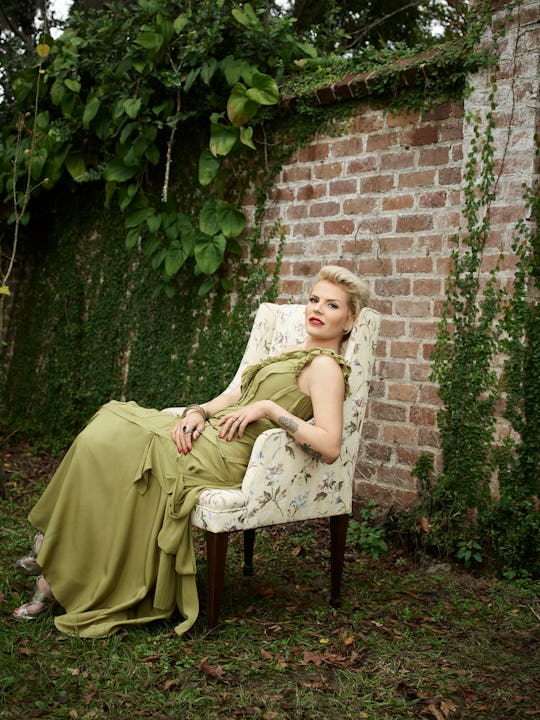 Virginia Sherwood/Bravo
Ashley Borders Is Bringing The Drama To 'Southern Charm Savannah'
Although it's a new Bravo series, Southern Charm Savannah is one that seems like it's already going to have enough drama in one season to join the ranks of the other reality shows on the network. The promo for the first season shows plenty of highs and lows, with Ashley Borders as an apparent villain, if you will. Whether fans come to love her or hate her (or love to hate her), they'll likely be asking: who is Ashley Borders on Southern Charm Savannah? And you can't really blame them, since it's apparent that the Savannah native seems like she's going to be the one doing a lot of pot stirring this season.
But other than that, it's important to note that the whole reason she moved back home to Savannah from Los Angeles, after having a fashion stylist career that took her all over the world, was to give her son Izzy a proper childhood like her own. On the one hand, it might seem like Ashley is going to be on the show to be one of the drama instigators, but she's also an important figure in Savannah and in the fashion world overall. And though she's worked in the style department of movies like The Dark Knight Rises in the past, her career has still flourished back home in the south.
According to her website, Ashley serves as the Head of Fashion for Savannah's Fashion Night Out and acts as a contributor for Georgia Public Broadcasting. She's also worked with the Savannah School of Art and Design as an event wardrobe stylist. Basically, she's taken her experience and love of fashion and brought it back home to the south and chances are, viewers are going to see a lot of that come into play with Ashley on Southern Charm Savannah.
But aside from apparently causing drama (who doesn't on reality TV though?), Ashley seems to be a devoted mom to her son Izzy and the photos of the two of them on vacation together are seriously adorable.
As a fashion designer, Ashley also recently started Lovelution, which is a clothing line that features interpretations of love, acceptance, and peace drawn by people with disabilities. The artwork is made at the Coastal Center for Developmental Services in Savannah and as the website says, each purchase continues to make it possible for these individuals to be able to continue their artwork.
Ashley might come to be known as a resident bad girl on Southern Charm Savannah, but she obviously has a big heart. The newest reality series premieres on Bravo starting on May 8.