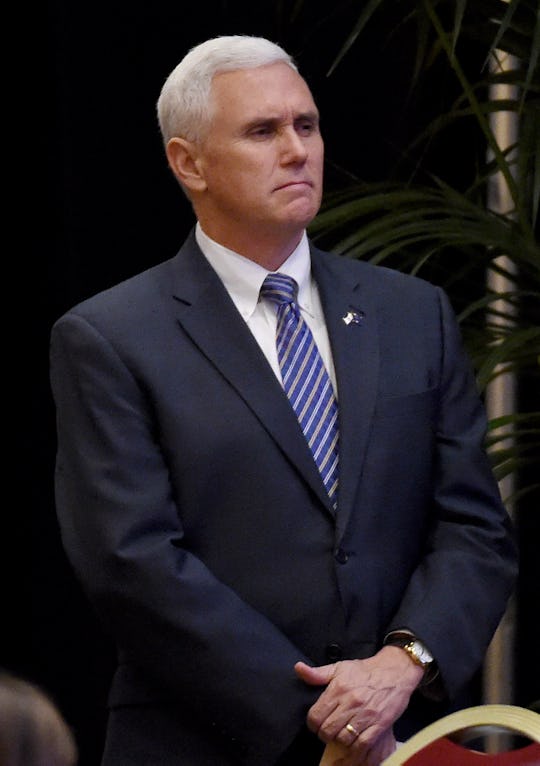 Ethan Miller/Getty Images News/Getty Images
Who Is Audrey Pence? Mike Pence's Daughter Doesn't Agree With Him On Everything
The big news of the moment is, of course, that it looks as though Republican Presidential candidate Donald Trump has made his choice for Vice President. Indiana Gov. Mike Pence will reportedly be given the official nod over the next few days, and already potential voters are interested in getting to know him. While voters are getting to know Mike Pence, some are also wondering who his daughter, Audrey Pence, is, and whether she shares her father's political views — or otherwise.
UPDATE: Trump confirmed Pence as his vice presidential running mate in a tweet Friday morning and said he would host a news conference on Saturday.
Audrey is the youngest of Gov. Mike Pence's three children; son Michael is the oldest, with daughters Charlotte and Audrey coming after. Pence and his wife Karen have been married for 30 years and appear to have put a lot of effort into raising children who know their own minds; son Michael joined the United States Marines after graduating from Purdue University, older sister Charlotte is a filmmaker who graduated from DePaul University, and youngest daughter Audrey is currently attending Northeastern University where she studies International Affairs. While her dad might be a conservative Republican, it might surprise voters to know that Audrey considers herself a social liberal. As a voter, she told Indiana news outlet WTHR that she is an Independent, and voted split-ticket at the last election.
And just how does her dear old dad feel about Audrey's opposing views? It turns out he supports her no matter their differences. In 2013, she told WTHR:
"Probably the person I get the most respect from is my dad on that and he has always...he tells me so many times, 'I am proud of you for having your own opinions and looking into things'."
Audrey Pence, like the rest of the Pence clan, has been very supportive of her father's political career. The whole family has been known to hit the campaign trail with dad, handing out flyers and even calling potential voters for their support. As Pence told WTHR;
"This has always been a family affair for us, from the very first campaign headed out to county fairs, while Karen and I would be shaking hands at the Republican tent, the kids would be standing out in front of the tent, handing out flyers and shaking hands."
Despite her differing political views, she did still vote for her father in the last election.
"Yes, I voted for him. I did vote for him. He proved himself to me,"
In 2015, Audrey went on a transformative journalism co-op to Turkey as part of her International Affairs studies. She wrote some hard-hitting stories about bride kidnapping and hit the streets to get quotes from Turkish nationals about the 100th anniversary of the Armenian Genocide.
According to Northeastern News, Audrey even covered a story about a Syrian journalist living in southern Turkey who wrote for an underground Syrian newspaper. "We had to be extremely careful when writing that story when it came to names and loca­tions."
As the Pence family hits the spotlight over the next four months (or beyond if Mike Pence becomes the next Vice President of the United States), young Audrey, a trailblazer who has clearly been raised to speak her mind and follow her own beliefs, should be interesting to watch.
Particularly if she comes in contact with The Donald .