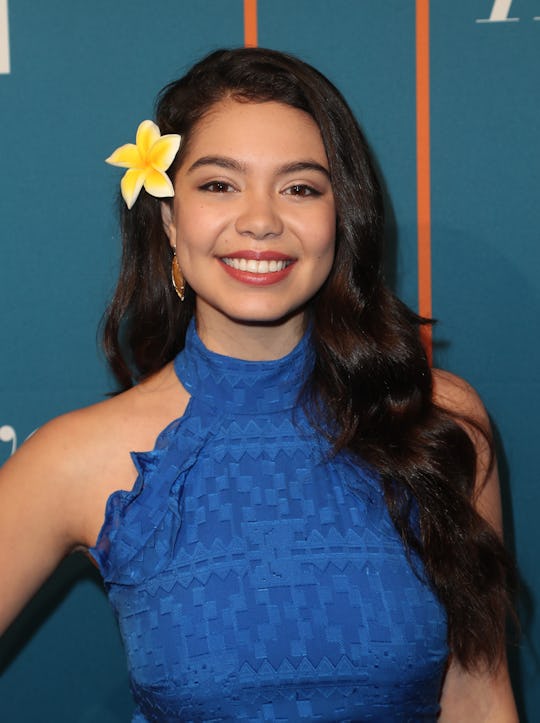 Frederick M. Brown/Getty Images Entertainment/Getty Images
Auli'i Cravalho: The Inspiring Voice Behind Moana
She is set to perform at the 89th Academy Awards on Sunday, along with the likes of Lin-Manuel Miranda, Sting, Justin Timberlake, and John Legend. She has already starred opposite Dwayne Johnson in Disney's Oscar-nominated animated feature Moana, voicing the title role. And she's only 16-years-old. Her name is Auli'i Cravalho, and she's winning everyone over with her infectious enthusiasm. The girl is just loving every minute of her life these days.
First things first: that name. Cravalho gave People magazine a little lesson in pronunciation that should come in handy on Oscar night, when even the most seasoned stars stumble over far more recognizable names (everyone remembers the infamous Adele Dazeem, yes?):
It's "ow," like you stubbed your toe. "Lee," like Bruce Lee. Then, you add an "e." Auli'i Cravalho.
The young Hawaiian voices the ferociously independent title character of Moana, a Disney "princess" like no other who has come before her. The movie tells the story of Polynesian demi-god Maui, and is considered the most historically authentic depiction of any Disney animated musical to date (creators John Musker and Ron Clements even spent time visiting the Pacific Islands to make sure they were doing the legend justice. Tough gig). While the legend of Maui is epic, Moana herself is the true hero of the story. Fearless, independent, and without a single love interest in sight. Plus, the girl can really, really sing (Cravalho, I mean. Also I guess Moana).
Moana was Cravalho's first movie ever, and she rather happened upon it by accident: She was discovered by Disney talent scouts on Youtube. In an interview with Harper's Bazaar, she said she wasn't planning on auditioning for Moana because it might interfere with her freshman year in school:
Freshman year of high school is confusing as it is, and I decided I was going to focus on school. As it turned out, though, my friends and I decided to put together a totally separate audition to become the entertainment for a non-profit event. We put together this awesome a cappella mash-up of songs we love, with beatboxing and harmonies—and we didn't get in. But the woman who was going through those auditions, Rachel Sutton, was also the casting director for Disney, so she looked at our audition and asked if I wanted to try out for Moana.
The rest, as they say, is history. Moana has gone on to be nominated for two Oscars, Best Animated Feature Film and Best Song ("How Far I'll Go," which Cravalho will be performing at the Oscars with Lin-Manuel Miranda).
As for Cravalho, she is still living with her mom Puanani in Oahu. She is studying, and posting adorable selfies. And she is still feeling deeply connected to Moana. As she told Harper's Bazaar:
I've grown up on an island all my life—so has she—and we're both deeply connected to our culture. I go to an all-Hawaiian school, so even the mythology and the folklore of Maui is something I grew up with. Her journey is something I feel as well—that journey to find yourself.
And what a journey it is for Cravalho these days.