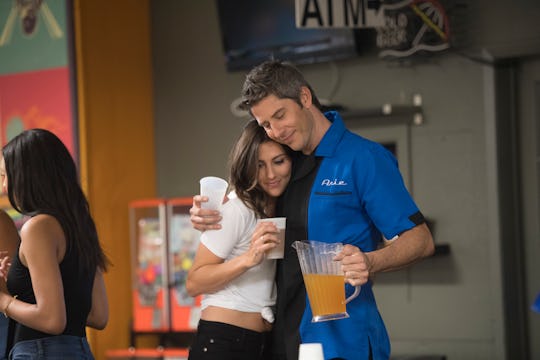 Paul Hebert/ABC
Becca Is About To Get A Blast From The Past On 'The Bachelor'
All season long, Arie Luyendyk Jr. has had his concerns about hurting any of the women competing for his love and attention, but in the end, it might be Becca Kufrin who inadvertently hurts him instead. Ever since the season began, promos have teased that someone's ex shows up in the hopes of winning one of the contestants back. Well, it's now been confirmed that this mystery man will be Becca's ex, whose name is Ross Jirgl. So who is Becca's ex-boyfriend Ross on The Bachelor? His appearance on the show could mean trouble for her relationship with Arie, especially as the season draws to a close and they get that much closer to the big proposal.
In a sneak peek ahead of Monday night's episode, provided by ABC News, fans finally get to learn the identity of the mysterious ex whose been teased in promos for so long. And this time, we actually get to see his face and learn a bit more about him. In fact, Ross is very likely the ex-boyfriend Becca told Arie about earlier in the season on a one-on-one date. At the time, she referred to him as a serious boyfriend who she'd had a relationship with over the course of seven years, sometimes on and sometimes off, but with whom she'd shared a lot of experiences and even the loss of her father. There aren't any photos of the two of them on Ross' Instagram, but there's one post on Becca's from back in February 2015, though from that point on, there aren't any others.
Needless to say, their relationship was probably an important one and in the scene released by ABC ahead of Monday night's episode, Ross calls Becca the love of his life and tells Arie that he plans to propose to her himself. He also says that he only found out a week prior that Becca was on the show, which makes sense considering hometown dates were around that time and he may have heard from someone back in their shared hometown about Becca being on The Bachelor. So you can't really say for certain that his actions are just for show, but the timing couldn't be worse.
Like Becca, Ross studied at Minnesota State University, but afterward he went on to earn his master's degree in sports performance coaching at Indiana State University. Since graduating in 2015, he's worked as a coach at a handful of colleges, though most recently, he's been the sports performance coach at Stanford University. This means that he definitely doesn't live in Becca's hometown of Prior Lake, Minnesota, but instead closer to Stanford, California. However, chances are, he likely heard about Becca and The Bachelor from any number of people back home when she arrived for her hometown date with Arie.
Ross' Instagram is pretty bare, but from what I can gather, it definitely doesn't look like he has a girlfriend or has had one recently. Which you would hope is the case if he claims Becca is the love of his life and he traveled across the world to try and propose to her.
During one of Becca and Arie's one-on-one dates earlier in the season, she opened up a bit about her relationship with a past boyfriend who I can only assume was Ross. "After putting up with a lot of stuff in past relationships, I know what I want and I know what I don't want," she said at the time. "My most serious relationship, we were on and off for about seven years and I'm just ready to move on in my life and find that person again."
Becca is 27 years old right now, so that means her relationship with Ross likely spanned throughout her younger years and into adulthood, which can have a lasting impact on a person, given how close they probably were over such a long period of time. This means that not only is it possible that Ross is still in love with Becca, but that she could also have feelings for him that are stirred up when he shows up in Peru.
Obviously an ex showing up is the last thing Arie needs as he struggles to figure out which women is right for him to propose to. But in the end, it might even be good for Becca to officially squash any unrequited feelings her ex might have, especially if Arie plans on getting down on one knee for her.
Check out Romper's new video series, Romper's Doula Diaries:
Watch full episodes of Romper's Doula Diaries on Facebook Watch.