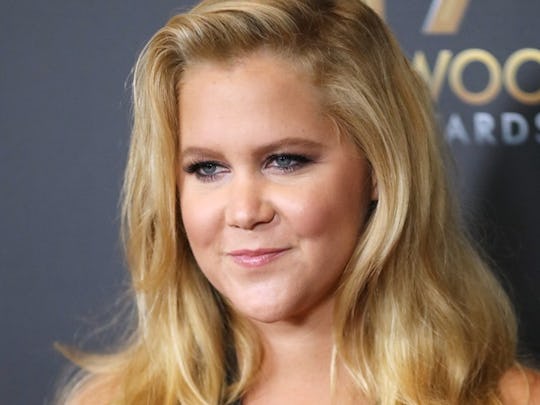 Mark Davis/Getty Images Entertainment/Getty Images
Who is Ben Hanisch? Amy Schumer's Boyfriend Will Get Your Stamp Of Approval
It's Twitter- and Instagram official: Amy Schumer has a boyfriend, and he seems just as cool as she is. You were probably rightly too distracted by seeing President Obama crying during his speech on gun control on Tuesday to notice who was seated in the audience, but according to People, Schumer was in the front row with her sister and manager, Kim Caramele; her brother, Joel Stein; and her new beau, Ben Hanisch. Schumer later shared photos of the group on both Instagram and Twitter, with the caption "Fam and man at the whitehizzy." And there's much more where that came from on social media.
Take a look at Hanisch's Instagram and Tumblr and you'll see that he's a very talented photographer. (Seriously, go check out his Tumblr — it's gorgeous.) But that's just a hobby. He makes his living as a furniture designer for his own company, The Last Workshop in Chicago. His designs are just as impressive as his photos. (I'm absolutely in love with his swing set picnic table!) According to Hanisch's LinkedIn profile, before founding The Last Workshop in 2013, he briefly worked for HGTV as a design consultant. It doesn't seem as though he ever appeared onscreen, but he certainly looks camera-ready!
While Hanisch's Instagram account is mainly filled with stunning Chicago skylines and pics of his furniture designs, he did post one shot with Schumer five whole days ago. I can't believe it's taken us this long to discover their relationship — how did we scroll past this adorableness, captioned:
Sometimes in life you get extremely lucky, and the smartest, funniest, most beautiful woman comes along when you least expect it. Here's to what adventures 2016 brings!
According to the New York Daily News, Hanisch also enjoyed a career as a professional snowboarder as a teen before attending the University of Utah. He also briefly pursued an acting career, and dreams of owning a boutique hotel one day, according to an interview with 5 O'Clock Magazine. "My whole life story is doing something for three years and getting bored," he admitted.
Considering Schumer is quite possibly the least boring person alive, he's in quite a good place.
Images: Mark Davis/Getty Images Entertainment/Getty Images; Amy Schumer/Twitter; Ben Hanisch/Instagram