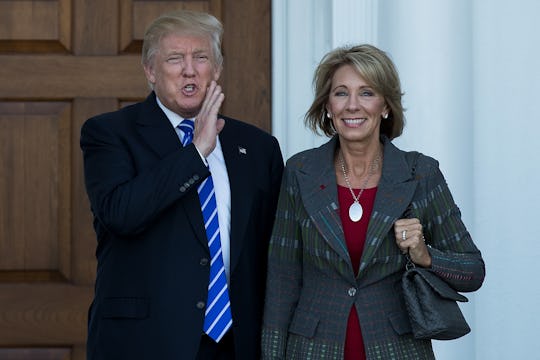 Drew Angerer/Getty Images News/Getty Images
Who Is Betsy DeVos? Trump Has Tapped Her As Education Secretary
President-elect Trump isn't letting the grass grow under his feet as he builds his new administration. As he continues to put together his transition team, his choices have (naturally) been causing a furor. From choosing former Breitbart CEO Steve Bannon as White House chief strategist to the rumored possibility of former Republican presidential nominee and famous Trump foe Mitt Romney being slated as Secretary of State, Trump's choices have been drawing fire. It should be interesting to hear what political pundits think of charter school advocate Betsy DeVos, Trump's choice for Education Secretary. But who is Betsy DeVos?
According to CBS News, Trump released a statement on Thursday about DeVos, a well known charter school advocate, saying:
Betsy DeVos is a brilliant and passionate education advocate. Under her leadership we will reform the U.S. education system and break the bureaucracy that is holding our children back so that we can deliver world-class education and school choice to all families.
For her part, DeVos was enthusiastic about the appointment, releasing a statement herself about her hopes for education under the new Trump administration:
The status quo in education is not acceptable. Together, we can work to make transformational change that ensures every student in America has the opportunity to fulfill his or her highest potential.
DeVos is a former Michigan Republican Party chairwoman and a well-known philanthropist. Her husband opened his own aviation-themed charter school in Michigan, and the couple were instrumental in having a Michigan charter school law passed in 1993 that protected those schools from additional regulation. While she supports charter schools, she told Philanthropy Roundtable in 2013:
Charter schools take a while to start up and get operating. Meanwhile, there are very good non-public schools, hanging on by a shoestring, that can begin taking students today.
DeVos has been outspoken in her belief in the school voucher system; a belief shared by President-elect Trump, who outlined a plan to use federal funds as a way to ensure lower income children might have access to better schools through a publicly funded voucher program. While Trump's vision focuses mostly on the poorest children, DeVos has supported school vouchers for low-income and middle-income children as well.
DeVos is married to Dick DeVos, former nominee for governor of Michigan and one-time president of the Orlando Magic NBA franchise. She chairs the American Federation for Children, a group that advocates on behalf of charter schools. Already, critics on both sides have called out Trump's choice in DeVos, with Democrats pointing to her lack of experience and Republicans criticizing her work with the Common Core education standards. While President-elect Trump has chosen DeVos, her appointment still needs to be approved by the Senate.