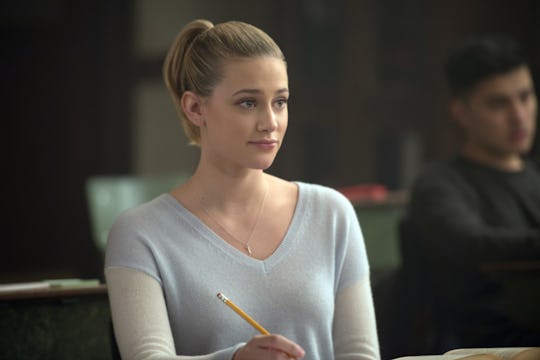 Diyah Pera/The CW
Betty's Brother Could Become A Key Character On 'Riverdale'
When it was revealed back in Season 1 that Betty had a long lost brother out there somewhere, Veronica theorized that it would be some earth-shatteringly handsome "blonde Adonis" type and judging by the actor set to play him, Hart Denton, she wasn't wrong in her prediction. But because he has yet to make his surprise appearance, who is Betty's brother on Riverdale? The mysterious character hasn't arrived in town yet, but that doesn't mean he's not already incredibly intriguing.
There isn't much known about him, other than the fact that he was given up for adoption when Alice had him at the same girl's home she sent Polly to as a pregnant teenager. But since he's been officially cast, you know there's going to be a surprise Cooper family reunion any day now, especially since there's also a Black Hood killer on the loose. I know, it's too soon to tell if Betty's brother is behind the killings or who he really is at all, but since the Black Hood linked himself to Betty, it's entirely possible that that's how her brother will be revealed.
According to TVLine, Denton will arrive in Riverdale as Chic Cooper, Betty's estranged brother, at the midway point through Season 2 and will then be a recurring character, so this definitely leaves the door open for Chic having more of an important role than simply a long lost illegitimate child.
Denton, whose smoldering good looks and blonde hair make him seem like the perfect Chic, is a relatively new and unknown actor. He was in an episode of the Lethal Weapon TV series in 2016 and has a small role in the movie Fun Mom Dinner, but other than that, Riverdale might be his biggest role yet. But he seems to have already hit it off with his Riverdale co-stars, as Lili Reinhart (Betty) has posted several photos with him on her Instagram Story, showing the TV family resemblance that proves casting Denton as her mysterious brother was the right move.
In October 2017, Screen Rant posted the official casting call for Betty's brother, which gives a little insight into who he is and how he was raised, which seems very different from the way Betty and Polly grew up: It reads:
Growing up in the foster system, then living on his own since he was 18, Chic is tough, resourceful, rough around the edges, and distrustful of new people. He knows how to look out for himself — he's a survivor — but his mysterious past is a secret only he knows. Chic didn't finish high school, hustles to scrape together a living on the fringes of society. There's a darkness to Chic that is both sexy and scary.
Since he's set to make his first appearance midway through the season, I'd be willing to bet that Betty's brother will be part of whatever midseason finale cliffhanger is planned, but with all of the distance between Betty and Jughead (or, Bughead, as they're affectionately referred to by their biggest fans), having another companion to get close to may be what Betty needs. Even if Chic's motives turn out to be less than admirable.
On the one hand, living on the "fringes of society" when your birth family is living it up in Riverdale is enough to drive almost anyone to commit the crimes of the Black Hood, so revealing Chic as the killer could happen by the end of the season. Then again, if there's going to be more of a redemption arc for Alice and Hal to make things right with their son, he might just be a rough character meant to help bring the family closer together again. Whoever Betty's brother proves to be, though, there's nothing like a new character to shake things up in the best way possible.