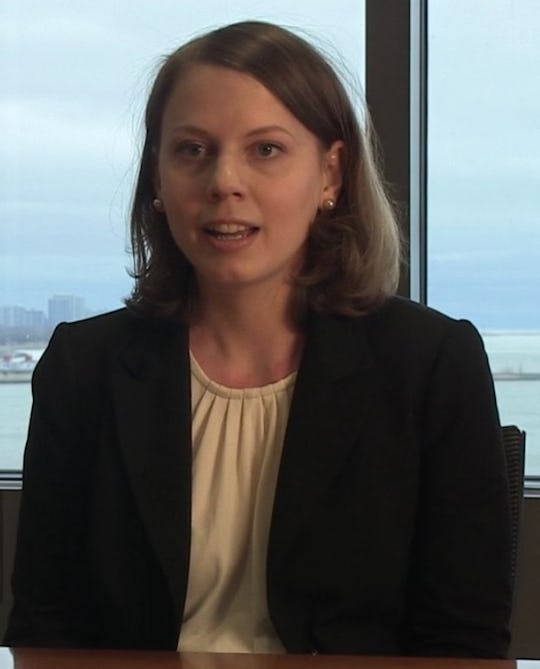 Netflix
Who Is Brendan Dassey's Lawyer On 'Making A Murderer' Season 2? She Knows What She's Doing
After months of growing more and more obsessed with the Steven Avery/Brendan Dassey case on Making a Murderer, Netflix announced Tuesday that the show will be returning for a second season, giving another look inside the case that involved both Avery and Dassey. Whether or not you think Avery is guilty, though, we can agree that there were plenty of things sketchy about the case, including Dassey's lawyer. So, who is Brendan Dassey's lawyer on Making a Murderer Season 2? First, it's a relief at all that someone else took on Dassey's appeal, because the lawyer he'd been appointed had done nothing to help.
Now, Brendan Dassey's lawyer, who will be plenty present in Season 2 of Making a Murderer, Laura Nirider, is plenty experienced with cases of juveniles falsely confessing to crimes. Aside from Dassey, another high profile case Nirider previously took on was Damien Echols of the West Memphis Three, proving that she's no stranger to cases that are in the spotlight. Nirider appeared toward the end of the 10-part documentary series' first season, but not before Dassey's case had been handled by Len Kachinsky, his previous lawyer.
The important thing is that Laura Nirider seems to know what she's doing, as her goal is now to provide post-conviction relief for Dassey as she works to prove his innocence in the Teresa Halbach case.
She's The Co-Director Of The Center On Wrongful Convictions Of Youth
Acting as advocates for kids accused of heinous crimes, the Center on Wrongful Convictions of Youth works to use investigations and DNA evidence to help in proving them innocent. Not only has the organization found nine different youths innocent through their work, but they regularly educate judges around the country on the facts of juveniles being bullied into confessions and the interrogation tactics that are inappropriately used on kids.
She Is A Clinical Assistant Professor Of At Northwestern Pritzker School Of Law In Chicago
Obviously an extensive amount of education and experience go into being part of a legal group that seeks out cases to help who they believe to be wrongfully accused youths, but Laura Nirider also works as an assistant professor of law. And while doing that, she regularly writes and publishes articles on interrogations and post-conviction relief. Basically, she does it all.
She Regularly Speaks Out About False Confessions Made By Youths
Obviously, Nirider has been public about her support of Brendan Dassey, especially with Season 2 of Making a Murderer confirmed, but there have been plenty of other outlets where she has been open about convicted youth. At the Washington and Lee University's False Confessions Symposium 2012, Nirider spoke out about the issue, then at the NACDL's (National Association of Criminal Defense Lawyers in) Annual Post-Conviction Conference in 2014, and then again at the University of St. Thomas School of Law in Minneapolis.
Brendan Dassey's lawyer in Season 2 of Making a Murderer is an obvious step up from his previous representation. Nirider is the attorney who is going to give him the chance, post-conviction, to try to get to the truth.