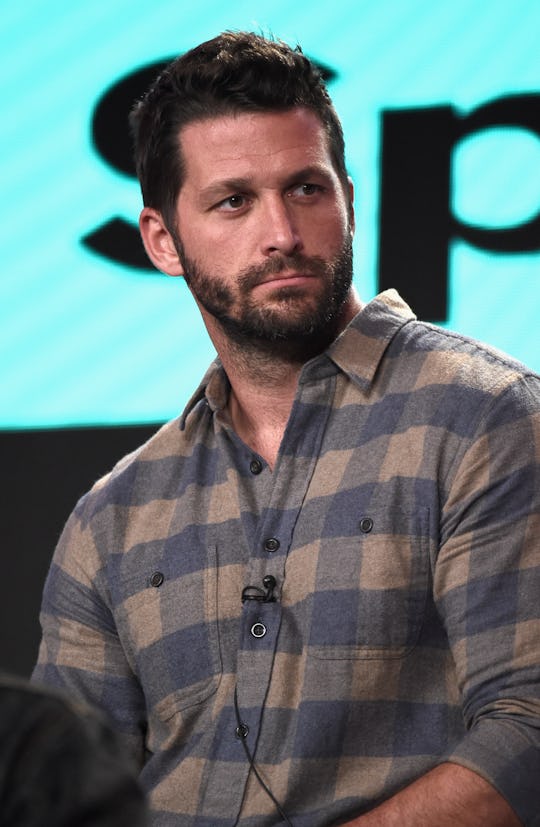 Amanda Edwards/Getty Images Entertainment/Getty Images
Brett Tutor Is Not Your Average Carpenter On 'Trading Spaces'
Just in case you needed another reason to watch the Trading Spaces reboot, there's a new carpenter in town and he goes by the name of Brett Tutor. But since there's a lot more to him than basically being Ty Pennington 2.0, who is Brett Tutor on Trading Spaces? The new resident carpenter is basically a jack of all trades. I mean, he's been all around the world and has worked with people from all walks of life, so it's safe to assume that when it comes to his impending work with Trading Spaces, he's more than up for the task.
According to Tutor's own website, he's done a lot of work with the Peace Corps in the past, including building an intricate fresh rainwater system on a birthing house near Panama and "building sustainable septic systems" in Central America. He also worked with Habitat for Humanity in the past, when an area of Texas was struck by wildfires. In fact, he has his own nonprofit he founded in 2014 called Off The Grid International, with the goal in mind to raise awareness for other nonprofit organizations and "build clean water and sanitation systems in the most remote areas on the planet."
Additionally, he has his own home inspection business, Property Doctors, based in Colorado, Austin, and Dallas, so like I said, the guy has his toes dipped in so many different projects and trades, he's perfect for Trading Spaces.
Judging from Tutor's Instagram, he's also a total outdoorsman, but are you really surprised at that? He can be found fishing, camping in the wilderness, and doing some back country precision hunting. But his love of the outdoors and anything challenging isn't really new for the Trading Spaces carpenter. According to the bio on his website, he grew up with a love of the outdoors and riding dirt bikes in his backyard.
At just 12 years old, he won the UCT International Jr. golf tournament and became a world-ranked golfer. By the age of 15, he was a carpenter and home inspection apprentice under the guidance of his grandfather. And before enlisting in the U.S. Air Force at 21, he spent a couple of years doing humanitarian work in Africa. Basically, he's never not been doing hard work and he seems ready to get his hands dirty every chance he gets.
Aside from working hard and helping literally everyone he can, Tutor is also a talented musician and has a band with his brother, appropriately called The Tutor Brothers. Somehow in between renovating homes, working with third world countries, and risking his life for the sake of enjoying the wilderness, Tutor finds the time to work on music and he even has a music video for the band's song "Flower Child" set to premiere on his Instagram sometime in April.
Tutor is just 32 years old, but in an interview with Austin Fit Magazine, he admitted to always being the kind of person to keep moving and giving in to his many talents. "I was this young, insatiable kid in the world trying to figure out who I was. I've always had so many passions," he said, of being a 12-year-old golf prodigy. He added, "I have always had an adventure itch that I need to scratch sometimes," which really comes as no surprise, since he seems like he's been around the world twice and is ready to do it again in a heartbeat.
Luckily for Trading Spaces fans, he'll be sitting still long enough to work on homes with the rest of the team on the show, but outside of the show, he has all kinds of things going on that he doesn't seem keen to give up anytime soon. Of his time working with his organization, Off The Grid International, Tutor said in the interview, "I learned that while I may not be able to change the world, I can absolutely change the world for a few people. And that's all I want."
While Tutor's focus isn't necessarily fame or even fortune, it's clear that both have come with territory of doing all of the work that he does. And just in case you're wondering about his romantic life (seriously, how could he ever find the time to date?), he also said in the same interview that as far as settling down with a spouse and family goes, "I don't think it's the chapter for that right now. I don't think it's the chapter after this chapter. But someday, definitely." Fair enough.
Trading Spaces officially returns to TLC on April 7 at 8 p.m. ET and yes, you will be able to see Tutor right from the get-go as the newest resident carpenter.
Check out Romper's new video series, Romper's Doula Diaries:
Watch full episodes of Romper's Doula Diaries on Facebook Watch.