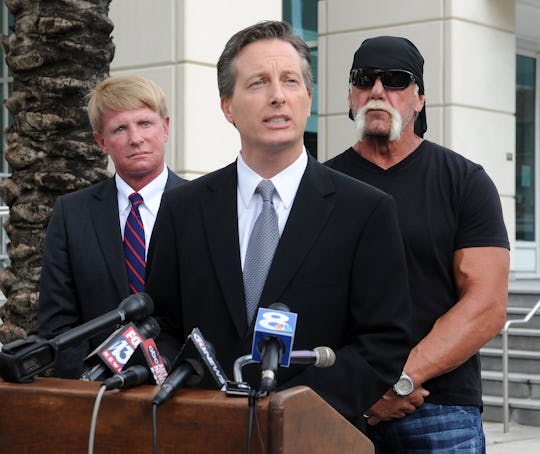 Gerardo Mora/Getty Images Entertainment/Getty Images
Who Is Charles Harder? Melania Trump's Lawyer Has A Record Of Suing Media Outlets
Soon after Republican presidential nominee Donald Trump threatened to sue The New York Times for reporting on the accounts of two women who allege that he sexually assaulted them, his wife has lawyered up against another publication that published another account of an assault Trump allegedly committed. Charles Harder, Melania Trump' lawyer, has a history of suing media outlets, and he wrote a to People magazine Thursday demanding that the magazine retract and remove statements about Melania Trump he labeled "false and completely fictionalized" or risk prompting his client to "consider her legal options." That could spell trouble for People, which on Wednesday ran a first-person account in which the one of its former reporters recalls how Trump had allegedly cornered her in a room and forcibly kissed her at his Mar-a-Lago estate in 2005.
Natasha Stoynoff was covering the Trump beat for people at the time of her alleged assault, but the details of what may or may not have happened between her and Donald Trump are not the focus of Melania's legal ire. Instead, Harder takes issue with the ancillary passage in the piece that features his client: Stoynoff claims that months after the alleged assault occurred, she ran into Melania Trump on Fifth Avenue in New York City and the candidate's wife hugged her and asked, essentially, where she had been, because Stoynoff has requested to be removed from covering the man she now says attacked her.
It would be a significant stretch to say that the portrayal of Melania in the story is anywhere close to defamatory — or even that the allegations of sexual assault against her husband are, considering that a handful of other accusers have come forward after and 11-year-old recording of him bragging about engaging in such inappropriate behavior surfaced on Friday. Trump, though, has denied the allegations levied in the People piece, as well as those of other women who claim he assaulted them.
Still, the inclusion of Harder's name on the letterhead of the official correspondence, addressed to both Stoynoff and People editor-in-chief Jess Cagle, would undoubtedly be an ominous sign for any media organization.
Once focused on (successfully) representing famous people such as Cameron Diaz, Sandra Bullock, and Mandy Moore against retailers who used their images without permission, Harder's prominence ballooned and he soon expanded his celebrity repertoire to include filing privacy rights claims for the likes of George Clooney, Julia Roberts, Bradley Cooper, Liam Neeson, Jude Law, Halle Berry, Tyra Banks, and Clint Eastwood, according to The New York Times. But he really gained notoriety when he represented Hulk Hogan in his quest to sue news site Gawker for posting snippets from a surreptitiously recorded video of the former WWE wrestler having sex.
In earning a $140.1 million payout for his client earlier this year and playing a huge role in the takedown of Gawker (the website is now defunct), Harder established himself as a very real threat to media outlets. As Forbes reported in April, after the jury's decision in a case that had dragged on since 2012, Harder and his Beverly Hills-based law firm have made suing Gawker their "bread and butter." The site faced 11 lawsuits since 2013, and Harder had been involved in the side bringing litigation against it in five of those cases.
The Gawker case was so high-profile, and the verdict so inflammatory, in part because Peter Thiel, a PayPal cofounder and Silicone Valley billionaire, had been had been secretly underwriting Hogan's legal fees. This is completely legal, but nonetheless unsettling for journalists: Thiel had a personal vendetta against Gawker because it had published an article saying he was gay in 2007; News that he had paid for litigation against the outlet introduced the possibility that other rich and powerful people could similarly fund lawsuits against publications they simply did not like, thus creating a dangerous chilling effect on content.
In his bio on his firm's website, Harder is described as "one of the few go-to litigators in the United States for privacy, defamation, entertainment, intellectual property, and business litigation." And by all accounts, the man has a job to do, and he does it well. His letter on behalf of Melania Trump does not even threaten a lawsuit, but a promise that his client will "consider her legal options" if People does not comply with her demand, suggesting that Harder has determined the case to be nowhere near as strong as Hogan's was.
That may be of some comfort to People, which surely considered this as a possible outcome before publication. Whether its staff expected to encounter Harder is another question entirely.