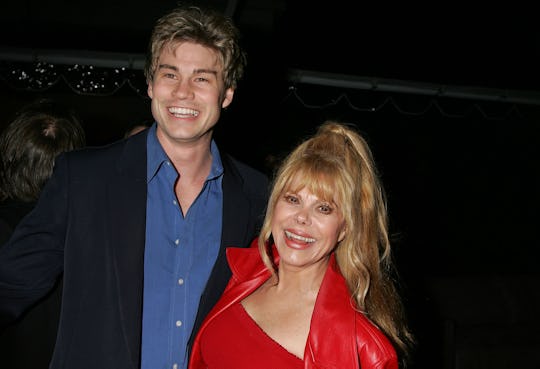 David Livingston/Getty Images Entertainment/Getty Images
Charo's Son Has A Great Relationship With His Mom
When Season 24 of Dancing With the Stars premieres on ABC on March 20, legendary performer Charo will be one of many exciting new contestants. But what some fans probably don't know is that somewhere along the way, the guitar playing singer and actress had a son. So, who is Charo's son Shel Rasten?
Although he doesn't have a household name like his mom, he does seem to have a great, healthy relationship with her. He also followed in her footsteps as far as singing and acting is concerned and has been in several TV shows and even released an album in 2015. Rasten is the son of Charo and her second husband, Kjell Rasten, whom she married in 1978 and is still with today. Fans probably first saw both Shel and Kjell on Celebrity Wife Swap in 2015, but since then, Shel has been consistently appearing in all kinds of hit TV shows.
And, like I said, the 35-year-old is also a musician, so it's kind of obvious where he got his penchant for performing. While Charo has been performing and making people laugh and also stare in envy for the past several decades, Shel has been working on his own career in this little business we call show. Charo's son isn't as well-known as the DWTS contestant, but he has a memorable face and his Instagram account shows the kind of fun-loving guy you'd expect to be raised by Charo.
He Released An Album In 2015
Shel's EP, Happy Tuesday, was released in 2015 and has a kind of soft rock feel to it. You can find the album in its entirety on iTunes, and although he hasn't released anything since, maybe his growing acting career will give way to new music.
He Seems To Be Super Outdoorsy
If you know that one friend who posts nothing on social media but photos of their latest hiking excursions and nature-themed adventures, Shel's Instagram account follows a similiar format. From sailing to hiking steep rocks, the actor seems to be all about any outdoor physical challenge.
He's Been On Several Different TV Shows
Over the past few years, Shel has appeared on Parks and Recreation, Anger Management, CSI: Miami, Workaholics, and Baskets, just to name a few.
He Has Great Relationship With Charo
In an episode of Oprah's Where Are They Now?, Shel talked about growing up with Charo for a mom and stressed how encouraging and protective she was of him his entire life, and the adorable relationship the two share can't be ignored.
Shel also seems to fully support Charo and her new stint on Season 24 of DWTS. He even posted an image to promote the new season with the caption: "So...this happened ;) Check out my mama rip it up this season! Unbelievable, I'm so proud to be her progeny." With all of his projects in both comedy and music, Charo's son was obviously inspired by his famous mom. And honestly, I can't get enough of the two of them together.