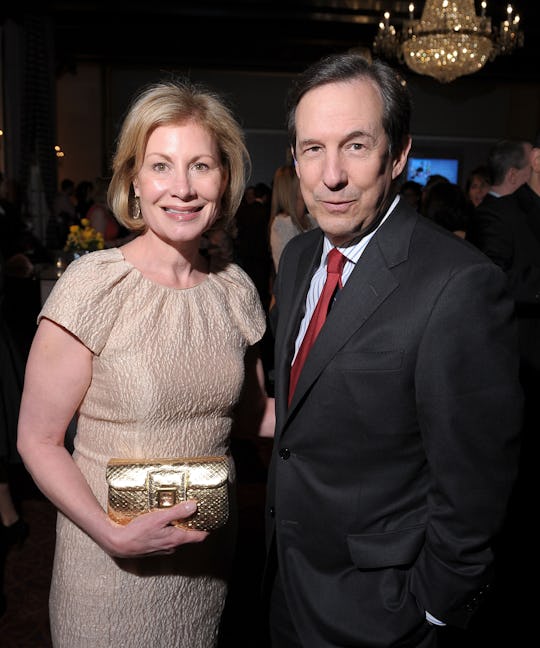 Michael Loccisano/Getty Images Entertainment/Getty Images
Who Is Chris Wallace Married To? His Wife Says He's Not A Fan Of Change
The final presidential debate is approaching, and it should be one for the history books. Tensions are high, as both candidates try to put a spin on their own individual scandals that have been cropping up and voters count down the days until Nov. 8. Fox News anchor Chris Wallace will be moderating the final presidential debate, held on Wednesday, Oct. 19, and bringing with him a stellar reputation as a well-seasoned political journalist. But don't expect him too many surprises; Wallace's wife Lorraine, whom he married in 1997, told The Washington Post that he is a "change is overrated" type of guy. And with all the change swirling in the air these days, perhaps a sober, calm presence won't be such a bad thing after all.
Wallace and wife Lorraine have been married for 17 years and have six children between them. Wallace, the son of famed news anchor Mike Wallace, brought four children from his first marriage to Elizabeth Farrell and Lorraine brought two children from her marriage to comedian Dick Smothers. Wallace, who some know as "Mr. Sunday" (as the anchor of Fox News Sunday), inspired wife Lorraine to write a cookbook about her famous soups she makes on Sundays as a long-standing tradition to keep the family together. Eventually, Lorraine published Mr. Sunday's Soups, a cookbook featuring amazing soup recipes like tortellini meatball, salmon chowder, and Buffalo wing-inspired chili.
"Mr. Sunday" will be switching to "Mr. Wednesday" next week, as Wallace will become the first Fox News anchor to moderate a general election debate — and he couldn't be happier about it. He told Fox News' Bret Baier:
I'm the first Fox moderator to do a general election debate and I'm very proud for the news organization. I think it's a recognition of the fact that we do serious journalism. Some critics say no, but the fact is, you and I know we do. And here's the Commission on Presidential Debates recognizing that.
This won't be the first debate Wallace has moderated in the 2016 election cycle, as he previously co-moderated the first GOP debate in August 2015 with Fox News' Megyn Kelly and Bret Baier, as well as the Fox Network's second and third debates in January and March of this year.
Wallace will bring more than 50 years of experience in journalism to the table at Wednesday night's debate; He began his career as a "go-fer" for Walter Cronkite at the Republican National Convention in 1964 and has since gone on to work as NBC's White House Chief Correspondent, for ABC News and Nightline, Meet The Press, and now Fox News.
Something tells me that Wallace will have to call upon every year of his experience to get through Wednesday night's debate. And he's probably going to need a whole lot of wife Lorraine's soup to himself afterwards.