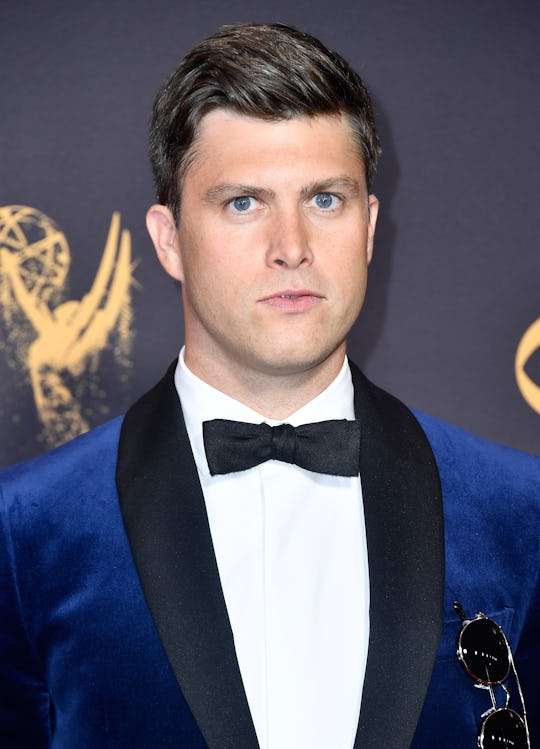 Frazer Harrison/Getty Images Entertainment/Getty Images
Colin Jost Is No Newcomer To Live Television
Michael Che and Colin Jost are the anchors of Saturday Night Live's "Weekend Update" segment, but they will also be co-hosting the 2018 Emmy Awards for the first time on Sept. 17. Who is Colin Jost, exactly, and why was he picked as one of the hosts for one of the year's biggest awards shows? His comedic career could definitely have something to do with it.
Che, Jost, and Kent Sublette will also be co-head writers for NBC's SNL as it heads into its 44th season, Deadline reported Tuesday. With his star rising high, this might actually be the perfect time for Jost to help host the Emmys. He's been writing at Saturday Night Live since 2005, according to The Chicago Tribune, and both he and Che began with "Weekend Update" in 2014, Deadline reported.
They've both definitely made a name for themselves thanks to the segment, but Jost has actually been with the show for awhile now. Jost joined SNL's writing staff in 2005, not long after graduating from Harvard, according to The Hollywood Reporter. At Harvard, he served as president of the Harvard Lampoon, considered "a popular breeding ground for Hollywood comedy writers," the outlet reported in October 2015. Clearly, comedy has been Jost's main gig for a long time, and what better stage than the Emmys, which has had hosts with comedic backgrounds like Stephen Colbert, Conan O'Brien, and Jane Lynch in the past, among others.
Not a whole lot is known about Jost's personal life, especially compared to how much the public knows about his professional life. He is reportedly dating actress Scarlett Johansson, who may be best known for her roles in the Marvel Cinematic Universe films, where she plays Black Widow/Natasha Romanoff. But she's also been in movies for a very long time, including roles in He's Just Not That Into You and Lucy, just to name a few.
Jost and Johansson were first photographed together at the American Museum of Natural History Gala in November 2016, according to InStyle. But the couple didn't make their first red carpet appearance together until April 2018, even though they've reportedly known each other since 2006. Before they started appearing at events together, Johansson was married to Ryan Reynolds in 2007, but they divorced in 2011. She was also previously married to her second husband, Romain Dauriac, and had a daughter with him in 2014, according to InStyle, so the timing may just not have been right for Johansson and Jost for a long time.
Among his other roles, Jost has written essays for The New Yorker, and was featured on John Oliver's New York Stand-Up Show on Comedy Central in the past, according to The Boston Globe in 2013. But Saturday Night Live is easily his biggest gig, and likely the reason he is co-hosting the 70th annual Primetime Emmy Awards in mid-September.
Jost was born and raised in Staten Island, New York, according to a profile Vulture.com did on the comedian in January 2014. He was also reportedly one of the youngest writers ever hired by SNL after his stint with the Harvard Lampoon, which is certainly an impressive feat.
It's not clear whether Jost is one of the youngest hosts of the Emmys as well, though I haven't seen any indication that that's the case. He may be one of the only ones to publicly admit that he doesn't particularly like awards shows not long before hosting one, however; Jost told The Los Angeles Times on Aug. 14 that when it comes to awards shows, "most of the time they're way too self-serious and focused on things that 99% of the country doesn't care about. At the end of the day, it's adults getting trophies. Why should that be taken seriously?" Ouch.
Hopefully, Jost will be a little more positive about awards shows after he faces the challenge of hosting one himself. And maybe he'll reveal a few more tidbits about his own life during some of his commentary — although, with his comedy background, he'll probably present them as a joke.
The 70th annual Emmy Awards will air on NBC at 8:00 p.m. ET on Monday, Sept. 17, 2018.