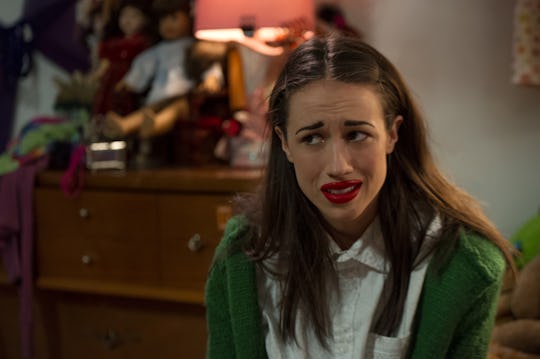 Carol Segal/Netflix
Who Is Colleen Ballinger From 'Haters Back Off'? Miranda Sings' Creator Is A Hard Worker
You probably know her best as Miranda Sings, the YouTube star and soon-to-be Netflix addition with her own show, Haters Back Off, but the creator of the over-the-top and in your face character has a lot more going on than the angsty, lipstick-smeared woes of the character she portrays. So, who is Colleen Ballinger? Obviously she hit her break break with her now-famous character, but before YouTube, she was delving into theater acting and trying to get a singing career off the ground.
Of course, Ballinger hit it big with Miranda Sings, a unique character of her own making that began on YouTube in 2008 and was even featured on an episode of MTV's True Life. According to Ballinger, much of her inspiration for Miranda came from the cocky and entitled attitudes of those she came across in the theater world while in college, and if you've ever watched one of the Miranda videos, you'd know that that's a pretty spot on representation.
The videos started out as a joke, as something funny to do to entertain her friends and family, but eventually blew up into something that now warrants her a Netflix Original set to premiere on Friday, October 14.
But who is Colleen Ballinger, the woman behind Miranda Sings? As much of a hit as her star character turned out to be, there are plenty of other things about the performer that maker her stand out when she's not sporting hastily applied bright red lipstick that finds its way onto her teeth.
She Worked At Disneyland
Long before her life as Miranda, Ballinger worked at Disneyland, where she was able to start putting her theater degree to use, but it wasn't to dress up as Mickey and make the sweaty rounds of the park every day. She was actually contacted after a casting director saw her in a performance of Seussical and asked her to audition for High School Musical at the park, which landed her the role of Kelsi Nielsen, and then earned her a role at Playhouse Disney too.
She Used To Give Vocal Lessons
Around the same time, before Miranda Sings became loved by millions, Ballinger worked as a vocal coach and also a piano teacher for kids. Obviously she was all about doing pretty much anything with music as much as she could and even before YouTube welcomed her and she went viral, she was entertaining.
Miranda Sings Started Of As A Joke
Ballinger created Miranda when she was in college as a way to poke fun at some of the more conceited or self-centered theater girls she knew and it became an inside joke for her friends to enjoy. Posting the videos on YouTube was just a way to keep the jokes organized and give her friends and family a way to watch the videos and laugh along with her.
She's The First YouTube Star To Get A Scripted Series
There have been plenty of successful YouTubers, but as of right now, Ballinger is the first to have her videos of her original fictional character turned into a scripted series. And it makes sense for her to move from YouTube to Netflix, as it still allows that internet streaming feature that her fans are already plenty used to as opposed to getting used to watching her on a scheduled time slot on TV.
She Takes Singing Seriously When She's Not In Character
In 2010, Ballinger was featured on the album More With Every Line by artist Tim Prottey-Jones and in 2011 the Chris Passey album, Self Taught, Still Learning. You can also sometimes hear her real singing voice come out as she performs as Miranda at live shows, but it's usually quickly followed by slipping back into her signature Miranda voice.
She Also Makes Comedy Videos As Herself
Miranda Sings might have more than 7 million subscribers and the latest video posted less than 24 hours ago already has more than 400,000 views, but Ballinger herself has a YouTube channel, PsychoSoprano, where she does everything from comedy and how-to videos to dancing and singing. She's also not shy about using Instagram to be herself, sans Miranda for once, and showcase her talents as a person rather than just as her signature alter ego.
Ballinger might have been made famous with Miranda Sings, but that's not all there is to the YouTube-turned-Netflix star, and with this giant leap onto the streaming service, there's legit no telling what will be next for her.