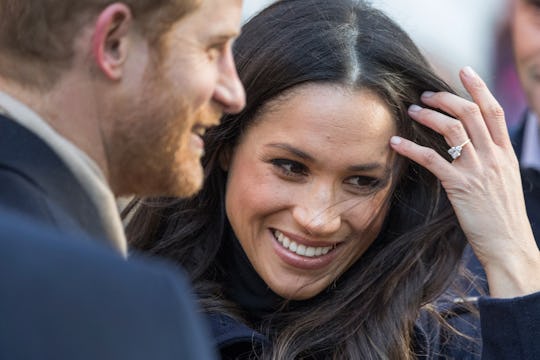 Christopher Furlong/Getty Images Entertainment/Getty Images
Here Are The Voices Behind The Royal Wedding Commentary
I won't lie to you guys; watching the royal wedding on Saturday is the highlight of my weekend, if not my entire month. Which probably tells you more than you need to know about the quality of my life, I guess. It's not just the whole spectacle of watching an American actress become a real princess, getting married in a centuries-old chapel in front of the Queen of England and such. Although let's get real, that makes for guaranteed spellbinding entertainment. It's also all about who is commentating on the royal wedding broadcast. All of those different perspectives from different personalities... the toughest part is actually figuring out which one to land on.
I suppose it's all about what you're hoping to get out of your royal wedding watching experience, isn't it? Are you looking for a real British flavor, commentating that calls forth images of tea, crumpets, morning suits and fascinators? Or are you more of a gossip girl, looking for the inside scoop on who's-who in the world of royals, not to mention all of Markle's nearest and dearest? Maybe a funny, tongue-in-cheek take on the big event? Or just some straight, good old American reporting? Whatever might tickle your fancy, there's a broadcast for that. The commentators for the royal wedding between American actress/philanthropist Meghan Markle and Prince Harry run the gamut, so take your pick.
BBC America
For American fans who want the whole immersive British experience, your best bet is probably going to be BBC America. Starting at 4 am EST, the network is broadcasting the BBC One coverage with Kirsty Young, Huw Edwards, Dermot O'Leary, Tina Daheley, Alex Jones, Ore Oduba and Anita Rani doing the commentating. The BBC One coverage features interviews with invited guests at the moat outside Windsor Castle, where guests have arrived by bus to watch the nuptials at St. George's Chapel. Yes, a moat and a castle. I'm in heaven.
HBO
While the BBC coverage is pretty comprehensive, sometimes a girl just needs a little laugh. And if you happened to see Will Ferrell and Molly Shannon as special commentators Cord Hosenbeck and Tish Cattigan *covering* the Rose Bowl for Amazon Prime, you know what you should expect. More of Cord and Tish, but this time covering the royal wedding. The special, which was produced by Funny or Die, airs at 7:30 am EST on Saturday. It might not be great for insider knowledge, but Tish's hat alone makes it worth the watch.
CBS News
If you're looking for a little insider gossip, this might be your show. Tina Brown is one of their commentators, and she wrote an actual book about Prince Harry's mother Princess Diana called The Princess Chronicles. Brown is joining CBS News anchor Gayle King and Entertainment Tonight's Kevin Frazier to give the inside scoop... so if you want the dirt, this is where you tune in starting at 4 am EST.
NBC/Today
Savannah Guthrie, Hoda Kotb, Megyn Kelly, Kathie Lee Gifford, and the rest of the Today team are at the royal wedding doing live coverage and got a head start on the other networks. Kotb and Guthrie were at a special spot overlooking Windsor Castle on Friday night, with the rest of the gang joining in starting at 4 am on Saturday morning.
CNN
Anderson Cooper, Alisyn Camerota and Don Lemon are providing live coverage of the royal wedding starting at 4 am, being joined by fashion expert Joe Zee for some more insider tips on the whole fascinator thing, which I personally hope becomes popular this side of the pond so I can stop styling my hair.
There are others, of course. E! News, TLC, Fox News, and even PBS are all providing coverage of the royal wedding. So honestly, it really is all about picking the way you want your royal wedding styled at this point. However you're watching, just watch and enjoy.