It's no secret that President-elect has a complicated relationship with U.S. intelligence agencies right now. Of course, all of that could potentially change once he officially becomes the president and his administration takes over. That being said, life could be interesting for former Indiana Sen. Dan Coats, Trump's pick for director of national intelligence. Luckily, he has experience on his side.
A Trump transition official shared the news that Coats, a former senator and one-time ambassador to Germany during the George W. Bush administration, will be announced as Trump's choice for director of national intelligence as early as Friday. Coats is considered by most political pundits to be a more traditional conservative. He has served two terms as a senator from Indiana, initially from 1989-1999, with his most recent stint ending when the 114th Congress finished its last session.
President-elect Trump met with Coats on Nov. 30 at Trump Tower. Once Trump takes office, Coats would serve as his leading adviser on matters of national intelligence and would be in charge of U.S. intelligence efforts, if the Senate confirms his appointment. Coats has some experience in the intelligence arena; He has served on the Senate Intelligence and Armed Services Committees in the past.
While former Sen. Coats is most likely celebrating his imminent prestigious appointment into Trump's Cabinet, he might want to wait to uncork that bubbly; Trump's contentious relationship with U.S. intelligence (or as he likes to tweet, "intelligence") agencies could prove problematic for Coats in the future. Trump has continued to doggedly deny multiple intelligence reports of dangerous Russian cyber attacks throughout the 2016 presidential election.
Despite the fact that President Obama chose to retaliate against Russia for the alleged hacking of Democratic emails (among other issues) by levying sanctions against the country and evicting 35 Russian diplomats, Trump continues to assert that either the hacks did not happen, or that the country should simply "get on with our lives".
Former Sen. Coats has had a different view of Russia in the past; In 2014, when Obama levied sanctions against Moscow due to the annexing of the Crimean region and the Ukraine, Coats fully supported Obama: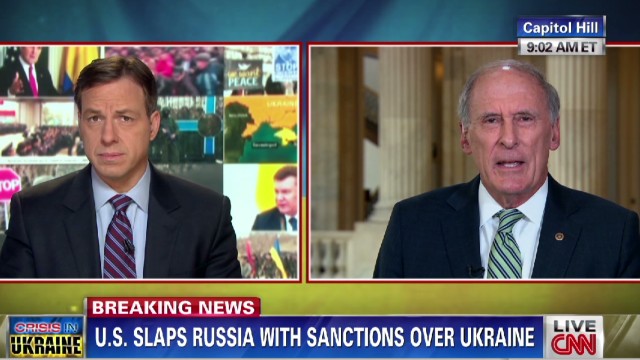 In addition, Coats co-authored a non-binding resolution that specifically outlined the sanctions against Russia and wrote an op-ed for CNN urging for stricter sanctions against the country. As for Russian President Vladimir Putin, for whom Trump has repeatedly expressed great admiration, Coats had this to say, according to The Indy Star:
Putin's recent aggression is unacceptable, and America must join with our European allies to isolate and punish Russia. I will continue to lead efforts on Capitol Hill to bring Putin to his senses.
Coats was banned from entering Russia because of his outspoken criticism of Putin in 2014. Which should make intelligence briefings with Trump... interesting. To say the least.