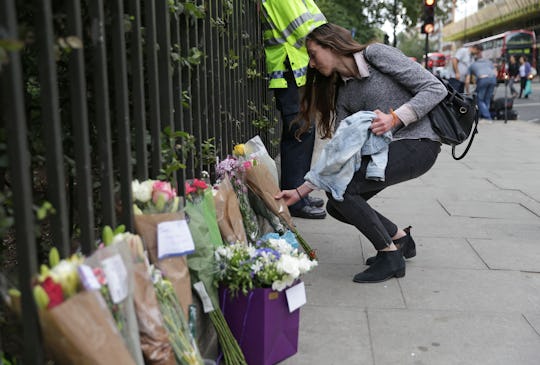 DANIEL LEAL-OLIVAS/AFP/Getty Images
Who Is Darlene Horton? The London Stabbing Victim Will Be Missed
Darlene Horton and her husband Richard Wagner were just finishing up a summer semester in London, England. The couple planned to return to Tallahassee on Thursday when tragedy struck. Horton was stabbed, along with five other people, in London's Russell Square and later died of her injuries. Her attacker, a 19-year-old Norwegian national of Somali descent, is in custody. So who exactly was Darlene Horton, the only American, and sole fatality so far, to die in that fateful scene?
According to a report by CNN, Horton was a 64-year-old woman from Florida. She was staying in London while her husband, Richard Wagner, taught a summer session for the university. Wagner is a Florida State University professor of psychology. The Florida State University released a statement shortly after the attack, expressing condolences to the family:
There are no words to express our heartache over this terrible tragedy. We are shocked that such senseless violence has touched our own FSU family, and we will do all we can to assist Professor Wagner and his loved ones, as well as his friends and colleagues in the Psychology department, as they mourn.
Horton was stabbed in what police say was a "spontaneous" attack late on Wednesday night in central London. They do not suspect any terrorist ties in the stabbing at this time. Police are considering mental instability as a motivating factor. While five other people were injured, Horton was the only fatality.
Florida Sen. Marco Rubio issued a statement about Horton's death as well, saying:
Darlene Horton's life was viciously taken last night in London, and I join the Florida State University family and all Floridians in mourning her loss. Her loved ones are in Jeanette's and my thoughts and prayers during this difficult time. This type of violence is becoming all too frequent here at home and abroad, which is why the safety and security of Americans must be our top priority.
According to Heavy.com, Darlene Horton was an avid tennis player. The United States Tennis Association tweeted a note of condolence to Horton's family and called her an "accomplished tennis player."
I don't know if Darlene Horton had children. I don't know how she took her morning coffee, or which grocery store she frequented, or what sort of books she read. I don't know what it was like to be in Russell Square on Wednesday night, dying so far from her home. I don't know much about Darlene Horton at all, other than the oft-repeated fact that she was "wife of...."
There was more to her than that, I'm sure of it. I hope she was sure of it too.