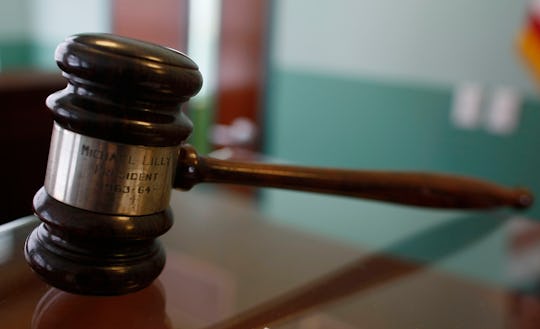 Joe Raedle/Getty Images News/Getty Images
Who Is Delaney Robinson? The UNC Student Is Speaking Out About Her Alleged Rape
The world needs more Delaney Robinsons. We need more champions, more dogged, determined people who refuse categorically to be silent. We need more steadfast, clear-headed leaders who see the world they way it already is, and continue to expect this world to get better. Delaney Robinson, the UNC student who alleged that she was raped by a football player at the Chapel Hill campus, is well on her way to becoming one of those leaders.
Robinson, an 18-year-old pre-business student studying at the University of North Carolina, admittedly had too much to drink on Valentine's Day of this year. She drank too much and became "incapacitated," as she said at a press conference in Raleigh on Tuesday with her father and lawyer, attorney Denise Branch, by her side. That's when she claimed UNC football player Allen Artis allegedly raped her. Robinson told reporters:
Yes, I was drinking that night on Valentine's Day. I'm underage, and I take responsibility for that. But that doesn't give anyone the right to violate me. I did not deserve to be raped.
After the alleged rape took place, Robinson went to the hospital, where she allowed a nurse trained in sexual assault cases to examine her and use a rape kit. According to Denise Branch, Robinson's attorney, the rape kit found "vaginal injuries consistent with blunt-force trauma and bruising consistent with a physical assault."
Robinsons was then interviewed by campus police... and said she was the one who was treated "like a suspect":
What was I wearing? What was I drinking? How much did I drink? How much did I eat that day? Did I lead him on? Have I hooked up with him before? Do I often have one-night stands? Did I even say no? What is my sexual history? How many men have I slept with?
Robinson alleges that campus police treated Artis differently. She claimed that an audio recording of the interview revealed campus police joking with Artis, and reportedly comforting him when he was upset:
Rather than accusing him of anything, the investigators spoke to him with a tone of camaraderie. They provided reassurances to him when he became upset. They even laughed with him when he told them how many girls' phone numbers he had managed to get on the same night he raped me.They told him, "Don't sweat it, just keep on living your life and playing football."
The Orange County District Attorney's office decided not to prosecute Artis, because, as Assistant District Attorney Jeff Nieman reportedly told Robinson's attorney Branch, "unconsciousness is rape, blackout drunk is not rape."
Robinson did not stop there. She requested "self-sworn" warrants to be issued against Artis for misdemeanor assault on a female and misdemeanor sexual battery. These warrants can be requested by private citizens in North Carolina when a judge finds there is enough evidence that a crime could have been committed. A judge issued the warrants, and Artis has since turned himself in to police.
In a statement this week, UNC coach Larry Fedora noted,
We are aware of the misdemeanor charges against Allen Artis. I cannot comment on either the allegation or the investigative process. We take these matters very seriously and are fully cooperating with the appropriate authorities.
This isn't the first time the University of North Carolina has come under fire for mishandling alleged cases of rape on campus. In 2013, UNC was investigated by the Department of Education for the way the school handled sexual assault reports. UNC was also one of the schools profiled in the 2014 documentary about campus rape, Hunting Ground.
If justice is served in the case of Delaney Robinson's alleged rape, it will be because of the sheer perseverance of the young woman herself. As her father, Stacey Robinson, said to reporters:
Delaney is a very strong person. I've been very proud of her throughout this entire process. I feel like she's taken a stand and done the right thing here.