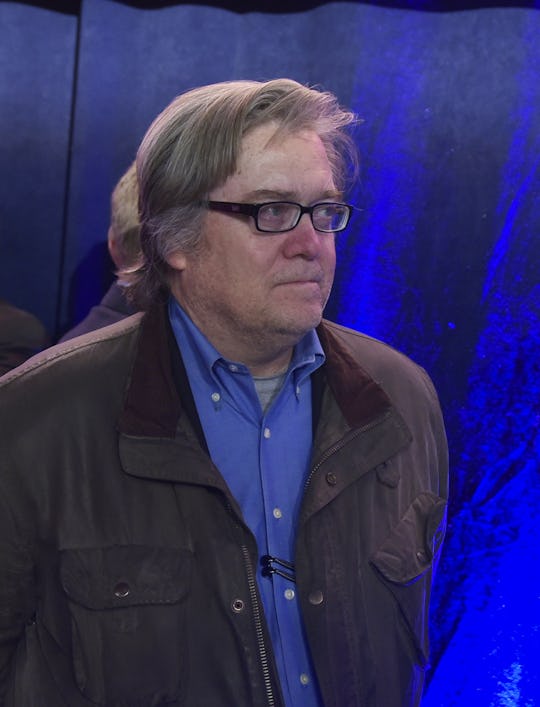 MANDEL NGAN/AFP/Getty Images
Who Is Diane Clohesy? She Is One Of Steve Bannon's Ex-Wives
When President-elect Donald Trump recently announced that he would be appointing Steve Bannon, former CEO of alt-right news site Breitbart News, as his chief strategist in the White House, the head scratching could be heard from coast to coast. Bannon has no government experience (although he did take over as Trump's campaign chief in August), and his news network has been accused of white nationalism, anti-Semitism, and misogyny. The last thing Trump needs as the country tries to pull back together is more controversy. Unfortunately the story of Bannon's ex-wife Diane Clohesy could cause Trump more trouble than Bannon's worth.
We all remember President-elect Trump's pre-election outcry about possible voter fraud, I'm sure. Just in case he lost the election to Democratic nominee Hillary Clinton, Trump had a decent excuse in his pocket: voter fraud. A rigged election. So arduous were his cries of potential foul play that, during the final debate with Clinton, Trump refused to say that he would concede the election if Clinton won. Many Trump supporters were convinced that the polls were rigged against him; one Iowa woman was even charged when she was allegedly caught trying to vote twice for Trump. Her reasoning? She told Iowa Public Radio, "The polls are rigged."
So it's rather interesting to discover that Steve Bannon, one of Trump's closest advisers, was reportedly registered to vote in the swing state of Florida (despite working in New York) with an empty house as an address. That house had apparently once been rented to Bannon's ex-wife, Tea Party activist Diane Clohesy. She had already moved out before the election.
Clohesy herself, according to The Guardian, has her own "irregular voting arrangement." Bannon had previously rented a house for Clohesy from 2013 to 2015, and used that home as his address despite never having lived there. Diane Clohesy was the third wife of Bannon, and the two were divorced in 2009.
According to her LinkedIn profile, Clohesy works as a director, producer, and social media manager for Breitbart News. Bannon continues to support her career by producing her conservative films like The Undefeated, a movie based on the book Going Rogue: An American Life by Sarah Palin.
As neither Clohesy nor Bannon reportedly live where they are registered to vote, they are technically both contravening Florida state voter registration laws, if the reports are true. Although let's get real here; if Trump is willing to accept Bannon's legacy of misogynistic, anti-Semetic, and questionable articles at Breitbart News... what's a little possible alleged loophole exploitation between friends?