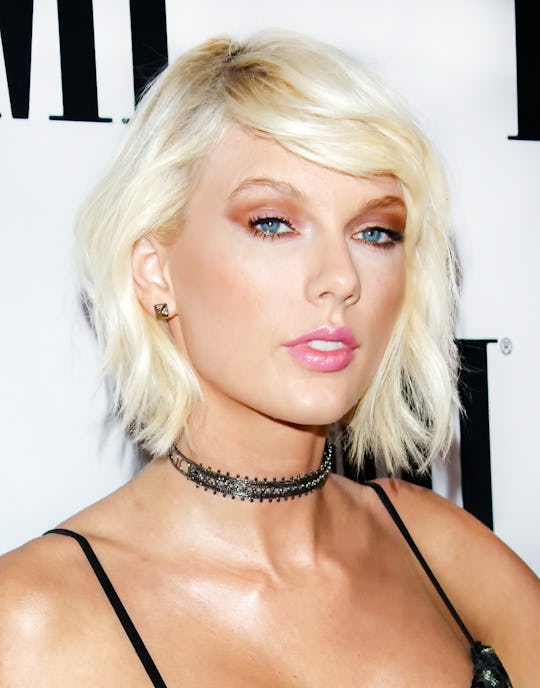 Mark Davis/Getty Images Entertainment/Getty Images
This Is Who Taylor Swift's "Don't Blame Me" Is About, According To These Fan Theories
Now that Taylor Swift finally, officially, really and truly launched the full Reputation album, fans are busy trying to figure out who Swift based all of her songs on. While all of Swift's titles for her new songs are provocative (the woman is a marketing genius, after all), some fans are especially interested to see who "Don't Blame Me" is about. You can't blame them... see what I did there?
The lyrics to "Don't Blame Me" are certainly suggestive, and lend themselves to all sorts of possible interpretation, as is generally the case with all things Swift. I mean, the chorus alone could be about a number of people currently in Swift's life. Or even long since out of her life.
Don't blame me, your love made me crazy/ If it doesn't, you ain't doin' it right/ Lord, save me, my drug is my baby/ I'd be usin' for the rest of my life
And then there's the first verse of "Don't Blame Me," which mentions a penchant for "toyin' with them older guys."
I've been breakin' hearts a long time, and/ Toyin' with them older guys/ Just to play things for me to use/ Something happened for the first time, in/ The darkest little paradise, shakin'/ Pacin', I just need you
Fans have some theories about who this song could be about, so here we go.
Kanye West
It's no secret that Swift and rapper Kanye West have something of an acrimonious past, especially after his infamous moment at the 2009 VMAs when he interrupted Swift as she was accepting an award with his "Imma let you finish" speech. Some fans think "Don't Blame Me" is a nod towards West's song "Blame Game" from his 2010 album, My Beautiful Dark Twisted Fantasy. In the song, West references several people he has hurt, and some believe Swift was included in that list.
Could this song be about West? The lyrics don't seem to fit, but the title might.
Katy Perry
In 2009, a young singer named Katy Perry became Twitter friends with another young singer named Taylor Swift. They were super adorable, exchanging tweets and cat pictures. It was a perfect world. By 2014, Swift put out a song called "Bad Blood," which she told Rolling Stone was about another woman in the music industry who had treated her poorly.
The rumor mill (and even Perry herself, according to Billboard) figured it was about Perry, since the two had reportedly stopped being so friendly. Some fans believe that "Don't Blame Me" is about this feud, and one has to wonder what Swift would do for her singing career if she didn't have all of these feuds to use as grist for the songwriting mill?
Again, the lyrics don't really match up, but it's a theory.
Joe Alwyn
This is the theory I think is perhaps the most likely; "Don't Blame Me" could be yet another possible ode to Swift's alleged boyfriend, British actor Joe Alwyn. It makes a whole lot of sense, especially when looking at these lyrics:
For you, I would cross the line
I would waste my time
I would lose my mind
They say she's gone too far this time
"Cross the line," like crossing the Atlantic for romantic rendezvous, perhaps?
Romper reached out to Alwyn's rep for comment on their relationship, but did not has not heard back at this time.
The low-key relationship is a bit of a departure for the normally high-profile Swift. Good luck finding even one picture of the couple together. Sources told Us Weekly that the two are very much in love, but also very private about their relationship. The source told Us Weekly:
It's often been Taylor's M.O. to be seen with a new guy first, have her new single drop and then announce her new album. But this time, she's kept the guy private. And that's pretty interesting. She really likes Joe.
"Don't Blame Me" feels like a love song to Alwyn. But then again, so does "Call It What You Want."
It seems Swift is in love, and maybe all of the people on her feud list can breathe a sigh of relief — for now.
Check out Romper's new video series, Romper's Doula Diaries:
Watch full episodes of Romper's Doula Diaries on Facebook Watch.