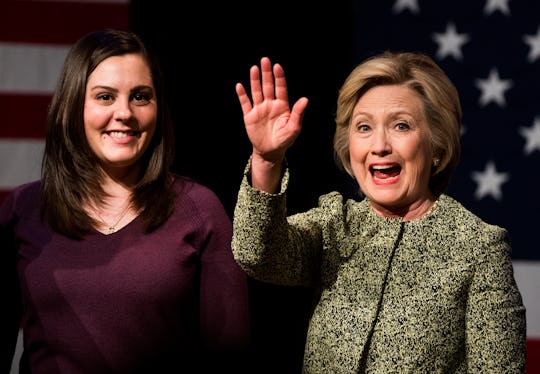 Andrew Theodorakis/Getty Images News/Getty Images
Who Is Erica Smegielski? Her Mother Was One Of The Sandy Hook Heroes
On Wednesday night, multiple Democratic National Convention speakers called for gun law reform. But one had a deep and painful connection to the 2012 tragedy in Newtown, Connecticut. Who is Erica Smegielski? Her mother, the principal of Sandy Hook Elementary School, gave her life to protect her students.
Smegielski's appearance at the DNC opened with a video. In a voiceover, she said that she'd planned her wedding with her mom but that they didn't get to spend that special day together. Principal Dawn Lafferty Hochsprung attempted to stop the shooter who attacked Sandy Hook Elementary School in December 2012; according to NBC News, she rushed toward the gunman before losing her life. Calling Hochsprung her "best friend," Smegielski said during the video shown at the DNC that her mother knew every Sandy Hook student by name and often knew their families well, too. Though Smegielski said the day of the attack felt like a "bad dream," the reality of what happened at Sandy Hook propelled her into activism:
And it wasn't until the first time I saw it in writing—age 47, Dawn Lafferty Hochsprung, female, deceased, cause of death: multiple gunshot wounds—that I realized my Mom didn't die, my Mom was murdered. And that made me angry. And that made me act.
Smegielski said she trusts Democratic presidential nominee Hillary Clinton to challenge the gun lobby, adding that Clinton reminds her of her mom because "she isn't scared of anything."
Once she stepped up to the microphone, Smegielski opened her speech by saying, "I should not be here tonight. I don't want to be here tonight." She said that instead of watching coverage of the DNC at home with her mom, she was on the DNC stage because of her mother's murder.
I'm here for the mothers and daughters who are planning weddings so that you get to watch your daughters walk down the aisle. I'm here for those lives cut short in a school, in a movie theater, in a church, at work, in their neighborhoods or homes, because those voices should never be silenced. I'm here alone, without my mother, while too many politicians cower behind the gun lobby instead of standing with American families.
After a standing ovation, she continued on to say that the nation doesn't need more gun violence.
What we need is to elect Hillary Clinton as the 45th President of the United States of America so that no other daughter ever has to say, 'I would give every single day that I have left for just one more day with my Mom.'
Year-round, Smegielski works for gun law reform through Everytown for Gun Safety, Marie Claire reported. She's the partnerships manager for the organization fighting to end gun violence in the United States. Smegielski's DNC appearance comes after months of public support for Clinton's candidacy: according to the Huffington Post, the video that preceded her speech premiered in April.