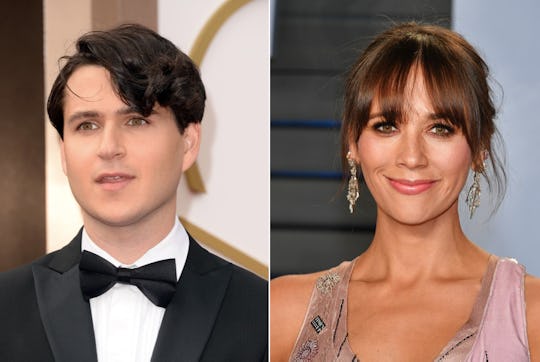 Jason Merritt/Getty Images Entertainment/Getty Images/ Dia Dipasupil/Getty Images Entertainment/Getty Images
Who Is Ezra Koenig? The Vampire Weekend Singer Reportedly Welcomed A Baby With Rashida Jones
Talk about a celebrity baby boom. Reports are in that actress Rashida Jones just welcomed a baby with her longtime beau. His name? Erza Koenig. And while the name might not sound familiar, chances are you've heard his music before. So, who is Ezra Koenig? Well, for starters, he's the lead singer of Vampire Weekend.
The reported pregnancy was apparently very hush hush, and fans are just learning of the birth that reportedly happened back in August, according to a report from E! News. (Romper's request for comment from Jones' rep regarding the reports was not immediately returned.)
Jones, 42, reportedly gave birth to son Isaiah Jones Koenig on Aug. 22 in Los Angeles, according to Vanity Fair. No one in the public eye even knew she was pregnant because she worked really hard to hide her bump with strategically planned outfits and photos, according to Page Six. Talk about pulling a Kylie Jenner! In a world dominated by social media and up to the minute news stories, this really is an amazing feat when you think about it.
While Jones is probably best known for her comedic roles in Parks and Recreation, The Office, and Angie Tribeca, Koenig is known for his musical talents. Koenig is hard at work on his band's fourth album, a much anticipated follow up to Modern Vampires of the City, which won a Grammy and topped the Billboard music charts, according to Pitchfork. The title and release date of their next album is still unknown, but is expected to drop sometime this fall.
Besides being a chart-topping lead singer, he's also a song writer with a credit on Beyoncé's Lemonade track, "Hold Up," according to Rolling Stone.
Koenig, 32, was born and raised in the New Jersey suburbs in a town called Glen Ridge, according to Rolling Stone. He attended Columbia University, where he met his future band mates and the rest is musical history, as Rolling Stone noted.
Jones must have a thing for talented musicians; her previous boyfriend was Mark Ronson, best known for his collaboration with Bruno Mars on Uptown Funk, according to Entertainment Tonight. Perhaps that's where she met Koenig, through mutual friends of friends in the music industry, although this is only speculation.
While the actress' reported pregnancy was kept under wraps, Jones did speak about motherhood, back in 2014, letting her fans know that children and marriage were something she definitely wanted in her future. As she told The Guardian:
I'm happy, but the fact that I'm not married and don't have kids — it's taken me a long time to get to a place where I actually am OK with that, where I actually don't feel like I'm some sort of loser.
As for marriage, she made her thoughts clear when asked if she'll ever get married by a reporter from E! News. She referenced her time shooting the movie Monogamy. "Maybe never? Marriage doesn't really buy you anything. I mean, Chris Messina, who is my co-star in this movie, is with my very close friend, producer Jennifer Todd. They're not married, but they have two kids and they're wildly happy."
Jones and Koenig are not married, but have reportedly been together for quite some time and seem to be very keen on keeping their private lives out of the media spotlight. They were first spotted when they attended a New York Knicks game together in 2016. Then, they were spotted together at the Sundance Film Festival is 2017, seemingly confirming their relationship status, according to People.
As for baby Isaiah, he's already a pretty hip kid. His grandparents are Quincy Jones and Peggy Lipton (Jones' parents) and his dad is a rockstar. Talk about some future cred in school. While it's clear that Jones and Koenig's privacy has been a top priority for the new parents, hopefully they'll share some cute photos or stories about their bundle of joy when they're ready.