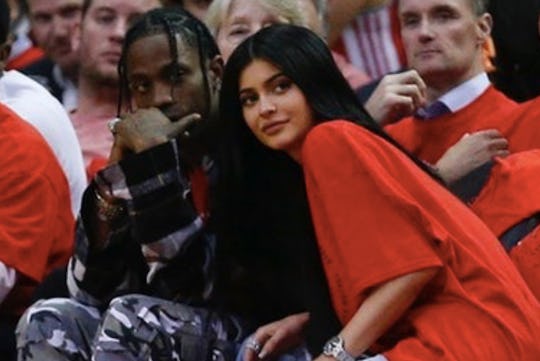 Bob Levey/Getty Images Sport/Getty Images
All Of Kylie Jenner & Travis Scott's Photos Of Baby Stormi Are So Cute, It Hurts
It's hard to believe that it's been over a month since the most secretive member of the KarJen family surprised the world by announcing that she was not only pregnant, but had already given birth to her first child. And now, looking back at all of Kylie Jenner and Travis Scott's photos of baby Stormi that they've shared so far will make you feel so happy for the new family and will likely make your heart melt because the cuteness is almost too much.
Even though Kylie kept quiet during her pregnancy, she's definitely started to share more images and snaps of her new life as a mom now that the cat's out of the bag. And fans love getting to see these little glimpses of Kylie, Travis, and baby Stormi living their lives. But, keeping up with Kylie isn't always easy; so much of what she shares is on Snapchat or Instagram Stories, which means these pics and videos don't last forever. So if you're a day behind on your Kylie news, you might miss it.
So, this list of all of Kylie and Travis' photos of little Stormi which have been shared thus far will definitely come in handy when you want to take a trip down memory lane. But, before you go get carried away with all of the baby cuteness, don't forget how this all started. It wasn't that long ago when Kylie's pregnancy was just a rumor and there wasn't any sort of confirmation from the new mom herself for months. My, how far we've come.