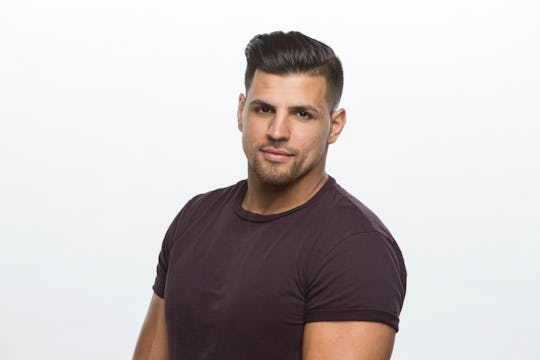 Sonja Flemming/CBS
Faysal Shafaat On 'Big Brother' 20 Could Have What It Takes To Win
On a show where the houseguests are typically a mixture of former police officers, college students, body builders, and sociopaths, it's not out of the ordinary for legit athletes to also find their way onto the show. Take, for example, Faysal Shafaat. But who is Faysal Shafaat on Big Brother and what does the clearly competitive houseguest have to offer in terms of game play? When he's not in the gym or working on his very own gym app, he's a substitute teacher. But the whole teaching thing seems like more of an afterthought to his athletic aspirations — which are definitely a big part of his life.
While he never went pro, Faysal did play college football at University of Tennessee at Chattanooga and has since maintained that sense of athleticism. He even appeared on American Ninja Warrior season 9. As a reality show veteran then, Big Brother was likely a natural next step for him. "I think [Big Brother is] the best of both worlds, physical and social game, and I think I have both of those qualities," he told Entertainment Tonight in an interview before going into the Big Brother house.
He also made it clear from the start that his competitive side is likely to play a role for him in trying to get far this season. "I think, me being a former college athlete, I am very competitive, and I tend to… show emotion when competitions arise," he admitted. Though he does plan to keep those emotions in check in terms of arguing with other houseguests since he knows that his family will be watching. That is, as long as one of those houseguests doesn't turn out to be Paul Abrahamian for yet another season on the show, as he is the one houseguest who Faysal hopes he doesn't see. Same, Faysal, same.
Outside of Big Brother, Faysal is totally single and, as he told Entertainment Tonight, basically down for a showmance if it happens. Hey, at least he's honest. "That is a possibility," he said. "Definitely not going to depend on anything like that — obviously I'm going in to win $500,000 and compete at this game, but… you never know."
I'd be willing to bet money that Faysal is going to be all about physical competitions and working his hardest to best his fellow houseguests in that regard. And since he did refer to himself as a "powerhouse" in his Big Brother bio, it's safe to say that he'll find it difficult to hold anything back so as not to appear as a threat this season.
Faysal's Instagram is full of gym selfies and videos of himself lifting weights like he's training for another season of American Ninja Warrior, but part of his inspiration to stay dedicated to his gym regimen likely stems from his app, Fessy Fitness. According to Faysal, the app is meant to act as a temporary social network for whatever gym you're currently working out at. You check in and post information about your workout progress and only other users checked in to the same gym can see them. Then, after specified amount of time has passed, the posts will be automatically deleted and refreshed with new ones from other users.
In his official pre-Big Brother interview with former Celebrity Big Brother houseguest Ross Mathews, Faysal revealed that his experience with kids as a substitute teacher will enable him to relate to houseguests from varying walks of life, giving him a solid social game. To be fair, most houseguests claim to be ready to play a social and physical game well before they're actually in the house, but I'll give him the benefit of the doubt here.