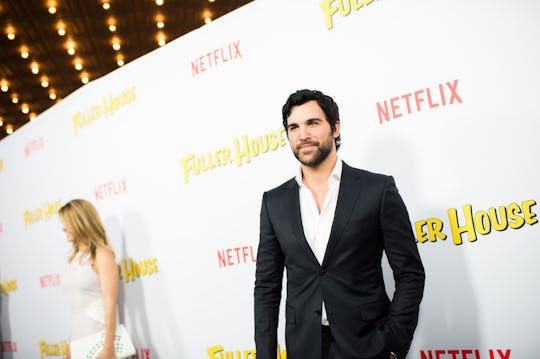 Emma McIntyre/Getty
Who Is Fernando, Kimmy's Ex-Husband? 3 Things To Know About Her Former Beau
Kimmy Gibbler dated a decent amount during Full House's eight year run and had a serious relationship with Duane — a surfer dude who could quote Shakespeare. (Who didn't swoon when he quoted The Bard's 18th sonnet in the series finale?) When the series came to an end, Kimmy and Duane were going strong and many thought they'd head back to the Reno and tie the knot for real. But alas, Kimmy did not say "I do" to Duane. Instead she married, and then separated from, a smooth-talking man named Fernando. But who is Fernando, and how did he manage to win over the world's most unique neighbor?
Fans first meet Fernando, played by Juan Pablo Di Pace, when he drops of his and Kimmy's daughter Ramona at Danny's going away party. At first it's hard to imagine why Kimmy would temporarily separate from him. I mean, look at him; he's hot. But it quickly becomes clear that his looks are his only positive attributes. When DJ greets him at the door, she gives him a sour look and immediately request that he go away.
We don't learn much about how this mystery man and Kimmy met, fell in love, and then fell out of love. We do, learn that the two had quite the sex life, and Kimmy knows "long lost secrets of the Karma Sutra from deepest, darkest, India." And we also learn a few facts about Fernando.
1. He's Argentinian
Based on Fernando's accent and a future spoiler, we learn that Kimmy's ex has Argentinian routes. This is no surprise seeing a Juan Pablo Di Pace was born in Buenos Aires, according to IMDB.
2. He Cheated On Kimmy
Despite Kimmy's bedroom skills, Fernando went looking for love elsewhere. And it wasn't just a one time thing. When Uncle Joey questions Fernando's obsession with Kimmy, Fernando brags that he has "seduced the most beautiful women in the world. To which Kimmy responds, "Yeah, some of them during our marriage." Fernando then admits to making one mistake, but making it many, many times. Is it possibly that Fernando's a sex addict?
3. He Is Infatuated With Kimmy
Whether or not Fernando is a sex addict remains unclear, but he is addicted to his ex wife. Fernando makes a point of telling everyone at that party that he's a Kimmy Gibbler-aholic and is certain he can win her back.
Will Fernando find his way back into Kimmy's heart? Only time will tell. But I'm personally hoping for a Kimmy and Duane reunion. If not just to hear him utter his favorite word — whatever.