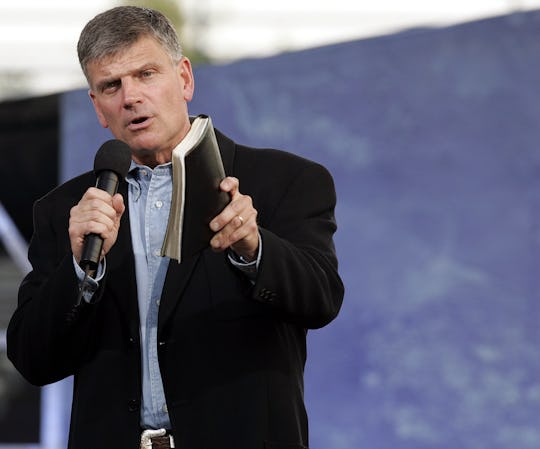 Stephen Chernin/Getty Images News/Getty Images
Franklin Graham's Controversial Inauguration Gig
Donald Trump is reportedly (and famously) struggling to convince entertainers to take the stage at his upcoming inauguration, but it seems there's no shortage of personalities prepared to showcase their controversial personas at the ceremony. Among them is an evangelical leader who readily echoed Trump's skepticism that President Obama was born in the United States throughout his presidency and is a zealous supporter of the president-elect's campaign trail proposal to at least temporarily ban all Muslim immigrants from entering the country. So, any sane person who takes even a cursory look at who Franklin Graham is and what he believes won't have any trouble understanding why his planned participation in the Inauguration Day event is going over less than smoothly among progressives.
Graham won't deliver a speech at the inauguration, but he's still mulling over which bible verse to recite Jan. 20. "I'm taking time just to pray and ask God to give me wisdom and guidance because it's a responsibility that I take very seriously," he told Religion News Service in early January.
This purported faith in God is one that Graham — who outraged those who believed he alienated non-Christians by mentioning Jesus at George W. Bush's 2001 inauguration — frequently invokes. Like, for example, when he said it was the "hand of God" that caused Trump to unexpectedly win the election — not "Wiki-leaky or whatever," a reference to the consensus of the U.S. intelligence community that the Russian government orchestrated a series of cyber hacks with the intention of damaging Democrat Hillary Clinton's reputation with voters and bolstering Trump's chances.
It was an opinion Graham shared when he accompanied Trump onstage at the Mobile, Alabama stop of his post-election "thank you" tour — an appearance he made despite having never formally endorsed any candidate during the vicious campaign season. Instead, the son of prominent Christian evangelist Billy Graham implored the Christian electorate to elect "godly leaders" into the federal government as he toured the country throughout 2016, according to The Charlotte Observer. But, for Graham, "godly" clearly has a very specific, perhaps undefined, meaning, as he was a vocal proponent of Trump's explosive 2015 call for a American moratorium on Muslim immigration until "our country's representatives can figure out what the hell is going on" in terms of terrorism.
Unsurprisingly, Graham is not a shy detractor of Islam, once calling it "a very evil and very wicked religion," according to the International Business Times. This, and many similar comments, have predictably earned him the ire of the Council on American-Islamic Relations, which is calling for Trump to drop him from the inauguration roster. "If President-elect Trump truly seeks to unite our nation ... he will limit the list of those offering prayers at the inauguration to religious leaders who work to bring us together, not to create divisions between faiths," CAIR National Executive Director Nihad Awad said in a press release. "Rev. Graham's ill-informed and extremist views are incompatible with the Constitution and with American values of religious liberty and inclusion."
The headlines decrying Graham's inflammatory depiction of Islam — including his refusal to believe that Barack Obama is Christian man who was born in the United States — seems be to at odds with the work of his charity organizations, as The Washington Times' W. Scott Lamb recently pointed out. Graham runs Samaritan's Purse, an organization that aims to "meet needs of people who are victims of war, poverty, natural disasters, disease, and famine with the purpose of sharing God's love through His Son, Jesus Christ," according to its website. And it recently reported to have built a field hospital to treat civilians injured in fighting against ISIS in Iraq, a majority-Muslim nation.
According to The Charlotte Observer, Graham is supportive of a Trump presidency at least in part because he believes he will nominate Supreme Court justices who share his goal of abolishing abortion rights. That's a major threat to women's rights, and Graham's insistence on clinging to birtherism shows that he is just as willing to peddle harmful misinformation as is Trump himself.