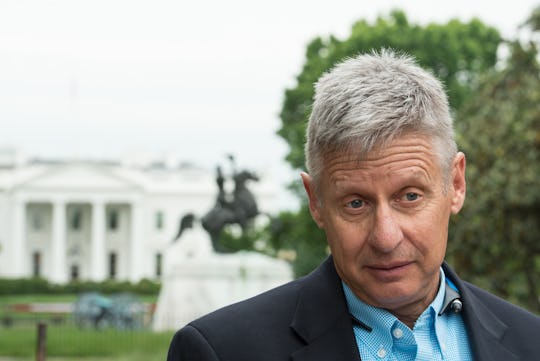 AFP/AFP/Getty Images
Who Is Gary Johnson's Fiancee? Kate Prusack Is His Longtime Partner
Everyone is talking about Gary Johnson these days. The Libertarian presidential candidate, who no one was talking about just last month, is suddenly making it into conversations because he's seen as an alternative to Donald Trump and Hillary Clinton, who many people see as undesirable presidential candidates. Who is this man who wants to be president? What are his thoughts on abortion, on the environment, on Wall Street, on his political adversaries? What kind of guy is he at home; is he a baseball fan; does he watch Game of Thrones (this last one might just be me)? And naturally, since he is one of the men who wants to win the White House: who is Gary Johnson's fiancée?
Yep, it turns out Gary Johnson actually isn't married. The former Governor of New Mexico was married for almost 30 years (1977-2005) to Dee Simms. The couple had two children together, daughter Seah and son Erik. Johnson divorced Simms in 2005, and she later died in 2006. In 2009, Johnson began dating Santa Fe realtor Kate Prusack. The two met on a bike ride, which is just about the most adorable meet-cute ever (although the sweaty/smelly factor probably wasn't too fantastic).
According to the Johnson campaign,the couple have been engaged for six years, and you know what that means? If their marital status doesn't change,and Johnson manages to triumph over both Democratic Presidential candidate Hillary Clinton and Republican Presidential candidate Donald Trump, a bachelor could sit in the White House.
According to Politico, Johnson had a rather interesting way of wooing Prusack. When the two met in 2008, he handed her a copy of Ayn Rand's Atlas Shrugged and said, "If you want to understand me, read this." While it would have been sort of hilarious if Prusack had said,"No thanks, I'm good," it turns out she must have been interested. The two have been together ever since.
Prusack and Johnson have quite a lot in common. They both enjoy staying active; Johnson once climbed Mount Everest while Prusack is passionate about skiing, cycling, and hiking.
Prusack has been quoted as saying that the power couple would "love to get married somewhere special" but it's so difficult to find the time. As she pointed out, her fiancé is "always on the road," which makes wedding cake tasting and menu planning pretty difficult.
After campaigning (whether he wins or loses), Johnson should see some stability after the election is over. While his numbers don't appear to be much of a serious threat to either the Democratic or Republican Parties' chances at this point, his popularity among voters weary of the two-party system seems to be gaining. His numbers are surprisingly strong for a Libertarian candidate, so perhaps he shouldn't be counted out just yet.
And you know what that could mean? A wedding at the White House. For reals. (But probably unlikely.)