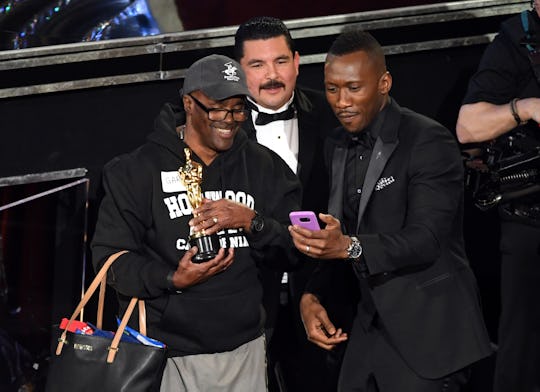 Kevin Winter/Getty Images Entertainment/Getty Images
Twitter Is Falling In Love With #GaryFromChicago
Without fail, every Academy Awards show host ends up having a shtick (or two) — like 2014 Oscars host Ellen DeGeneres and her mid-ceremony pizza delivery. For this year's show, host Jimmy Kimmel went all out on the shticks, having candy dropped from the ceiling multiple times and eventually bringing a group of random, unsuspecting tourists into the awards show midway through. It could have fallen flat, but instead, Twitter erupted with some serious love for Gary, one of the most noteworthy tourists. But who is #GaryFromChicago at the 2017 Oscars?
When the doors opened and the "unsuspecting" tourists (some of whom didn't look all that surprised by where they were, TBH) streamed in, Gary quickly and seamlessly adjusted to the spotlight. Despite his casual attire (baseball cap and a standard Hollywood tourist sweatshirt, FTW), newly-minted internet hero Gary looked like he belonged at the Oscars as much as any of the Hollywood elite seated in the front row. Gary took full advantage of his time at the Academy Awards, snapping photos and shaking hands. But best of all was the fact that Gary was proudly toting around his fiancée's bag the entire time. Now, that's a great man right there.
Like most Regular Dudes who show up and steal the spotlight in elite, widely-watched events (here's looking at you, Ken Bone), Gary almost instantly became the latest hugely popular meme of the year. And for good reason — in a few short minutes of screen time, Gary kissed the hands of Nicole Kidman, Meryl Streep, and more, while his fiancée Vicki was clearly taken aback to get a cheek-smooch from dapper Oscars prince Ryan Gosling himself.
There were other tourists present, but all eyes were clearly on Gary and Vicki. On top of getting up close and personal with some of their favorite actors and actresses, Gary even got a selfie with Best Supporting Actor winner Mahershala Ali's newly won Oscar statuette. But the greatest moment of all — and the one that certainly catapulted him to online stardom — was getting faux "married" by Denzel Washington (his fiancée's favorite actor) live during the Oscars ceremony.
Gary also won hearts around the world with his no-nonsense response to Kimmel wondering whether he was purposely ignoring all of the white celebrities.
Fingers crossed that Gary Allen Cole from Chicago doesn't find himself having the same fall from grace that other Regular Dude sensation Ken Bone later did. Because right now, he's our favorite star of the night.