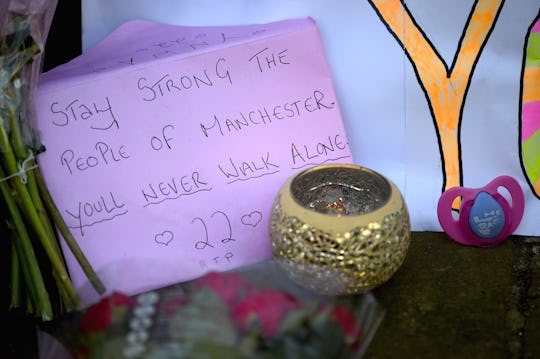 Jeff J Mitchell/Getty Images News/Getty Images
Who Is Manchester Victim Georgina Callander?
Last night, an attack at an Ariana Grande concert in Manchester left 22 dead and many more injured, with several guardians still searching for children who attended the show without them, according to The Independent. On Tuesday morning, authorities began to release the names of the victims, and 18-year-old Georgina Callander was the first confirmed victim of the Manchester attack. According to The Independent, friends described the second-year university student as a "living angel."
Callander was a health and social care student at Runshaw College in Leyland, and sources told The Evening Standard that she died at the hospital with her mother by her side after the attack. Friends honored the teen on social media, with one writing that Callander "deserved the world & more." Another wrote of Callander's "infallible positivity and care for others."
"Our deepest sympathies, thoughts and prayers go out to all of Georgina's family, friends, and all of those affected by this loss," Runshaw College said in a statement to the BBC. "We are offering all available support possible at this tragic time, including counselling with our dedicated student support team."
Callander was a Grande fan and had previously met her at a 2015 concert. On Saturday, she tweeted that she was "so excited" to see Grande once again.
Callander had also met other idols of hers, many of whom shared their sympathies on social media. Once Upon a Time actor Sean Maguire tweeted on Tuesday:
Just met this girl in April.She was so young & sweet.She was killed last night Manchester.My love to her and all the families of the victims
On Tuesday, a GoFundMe page was launched for the Callanders, and raised more than £5,374 (nearly $7,000) within hours. The donation fund was created by YouTube film creators Luke Cutforth and Dodie.
"Gina enjoyed the content that my friend Dodie (and others) put out and we decided to use our audience to help her family through this hard time," Cutforth wrote on the GoFundMe page. "My hope is that it will alliviate some funeral costs and allow them time off work to grieve."
The other confirmed victims of the Manchester attack include 8-year-old Saffie-Rose Roussos and 26-year-old John Atkinson, according to The Telegraph. A total of 22 people were killed in the blast, and 59 people — 12 of them children — were injured. Those interested in contributing to the Callanders can donate on her GoFundMe page.