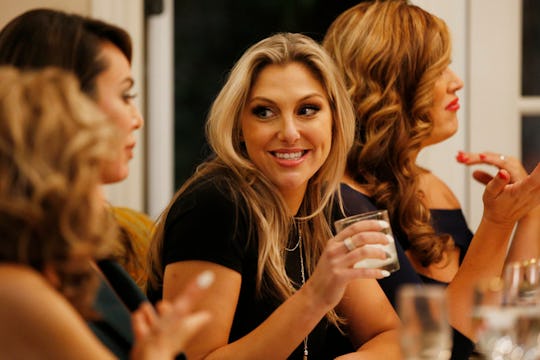 Phillip Faraone/Bravo
Gina Kirschenheiter's Ex Husband Won't Be On 'RHOC' This Season
Before The Real Housewives of Orange County Season 13 began, the news of newcomer Gina Kirschenheiter's divorce was already out. It didn't put a damper on the season and instead made some fans even more curious about her and this mystery soon-to-be ex-husband of hers. His job prevents him from appearing on the show, but who is Gina Kirschenheiter's ex-husband on RHOC?
Although they filed for divorce ahead of the season premiere, Gina told People in a September interview that the divorce isn't yet finalized. Still, that's the road the couple have mutually agreed to travel down and, Gina also told People at the same time, they plan to stay best friends as they co-parent after the divorce. So who is he?
Although Matt Kirschenheiter doesn't have much of a social media presence and is absent from RHOC, Newsday reported that both Matt and Gina went to Hofstra University. On the Hofstra University alumni page, there isn't a photo of Matt, but under his name, it says that he studied business administration and previously worked for Merrill Lynch. There's also a former Meetup.com engagement that listed Matt as the vice president at PIMCO, an investment management company in Newport Beach, California. Other than that, there isn't much public information about Gina's ex outside of RHOC, but the former couple do still seem to be close following their split.
In April, after they filed for divorce, Gina posted a photo on Instagram from their oldest son's birthday and Matt was there. And even after that, in July, they went to the San Diego Zoo and Matt was there too. It's hard to judge someone based solely on what he seems like on someone else's social media, but if Matt and Gina can still get together for their kids' sake following the filing of their divorce, he has to be a fairly stand up guy.
In July, the couple released a joint statement to Us Weekly about their divorce and where they go from here as co-parents to their three small children. "We are dedicated to raising our children together in a happy, healthy loving environment," they said in the statement. "We will be navigating this difficult process with respect and grace for one another. We kindly ask for others to treat us with this same respect and grace at we move through this family adjustment."
Gina has also said on RHOC that despite getting a divorce, she and Matt plan to remain close and that the distance with work played a big role in the two of them eventually growing apart. "We still are really good friends, but we're not in love," she told the other women on RHOC. "Matt is my best friend and we will be best friends for the rest of our lives." Although there isn't much known about Matt outside of his marriage, he and Gina clearly have a healthy relationship otherwise.
Early on in the season, Gina made it clear that because of restrictions from the company Matt works for, he will not be appearing on RHOC anytime soon. So unfortunately, fans won't get to see any of the divorce play out this season, at least from his point of view. Still, Matt and Gina seem to be on the best terms possible, given the situation, and it looks like they're taking the right steps toward maintaining a healthy relationship.