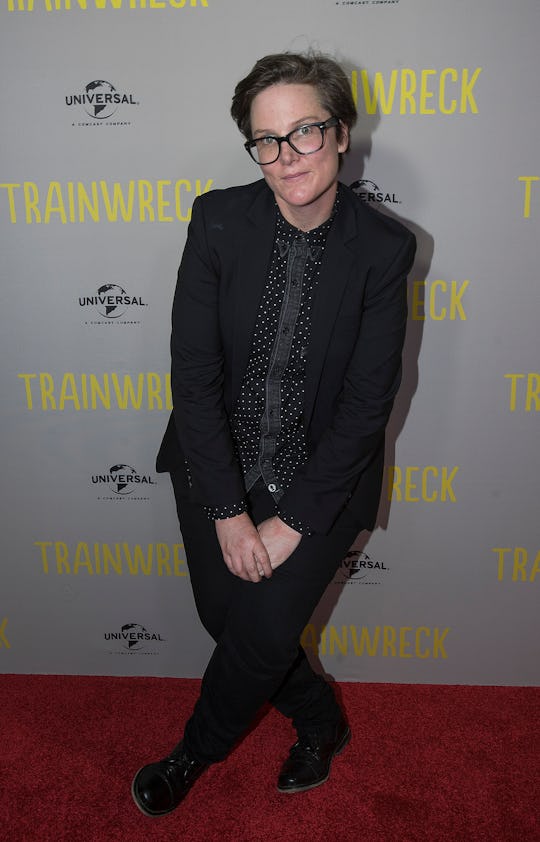 Luis Ascui/Getty Images Entertainment/Getty Images
Hannah Gadsby Stole The Show On The 2018 Emmy Awards
She was on-stage for less than a minute, but Hannah Gadsby became one of the more memorable presenters at the 2018 Emmy Awards. Her presentation monologue was genuinely hilarious and she had a confident stage presence, but some viewers may be wondering, who is Hannah Gadsby? Some fans are even tweeting about the 2018 Emmys presenter being a future host, so clearly she's done something right.
The Emmys typically feature different actors or comedians as presenters and Gadsby fits the bill as both, even if some viewers may not be all that familiar with her. According to her IMDB profile, the Australian actress, comedian, and writer was in the Australian comedy Please Like Me for two seasons. And before that, she was in the true crime drama Underbelly. But most recently, Gadsby wrote and starred in Nanette, her own Netflix stand-up special. I like to think that's a sign that she's arrived, but just in case it wasn't, Gadsby's short speech at the 2018 Emmys won fans over.
During her presentation speech, Gadsby said that that most, but not all, men are bad news and turned the male-oriented joke that men are funnier than women completely on its head. "Nobody knows what jokes are... especially not men," she said on-stage. "Am I right fellas? That's why I'm presenting alone." Someone get this woman a new Netflix special like now.
Although it might seem like Gadsby has been talking to crowds on-stage for years, she's fairly new to the game. She told Variety that shortly after her Netflix special premiered, she was hit with newfound fame and it was a bit shocking. "To get recognized in New York is weird because that's definitely a place you shouldn't be recognized," she said. "I don't quite know what to make of it."
She also said that the response to Nanette was surprising it itself. The stand-up special is named after a barista Gadsby once encountered and has what Gadsby called "difficult subject matter." She told Variety that she didn't expect the special to gain such a following and earn her an onslaught of new fans. "Secondly, being the person I am, I don't dream like that," she admitted. "I always kept my expectations in life very tame. Someone asked me the other day if I've pinched myself and I said, 'No, I'm too scared to. Because if I really did wake up and this was all a dream.'"
Fans who watched Gadsby on the Emmys and didn't even know who she was before Monday night were ready to denounce the show's hosts for the night and demand that she be brought back to be the host next year. And you can't really blame them after her 30-odd seconds of clever one-liners and smart jokes.
Part of Gadsby's charm was also how she seemed to be in wonder of not only being on-stage at the Emmys, but of being a presenter too. Since she's relatively new to comedy, it was certainly a big honor, but if you've watched Nanette or seen her live stand-up, then you probably know how well-deserved Gadsby's place as a presenter at the Emmys was.
In the past, Gadsby has been on Late Night with Seth Myers and The Tonight Show, so she's certainly made the rounds on TV. But after her short presenter speech on the 2018 Emmys, she no doubt gained a ton of new fans ready to hunker down and watch her Netflix special. I don't know what the chances are of the Emmys bringing her back as a host next year, but it'd probably be wise to at least let her present again. After all, it's clearly what the people want.