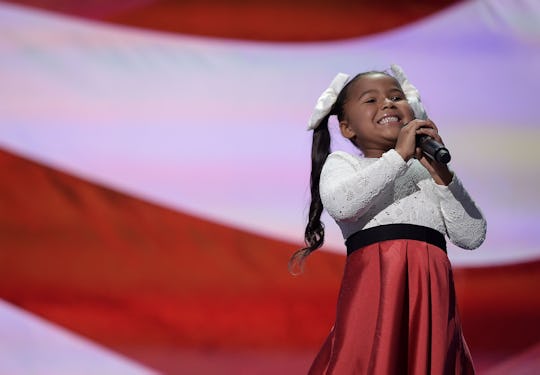 BRENDAN SMIALOWSKI/AFP/Getty Images
Who Is Heavenly Joy? The RNC Singer Is Adorable & Has Some Serious Talent
She is already a national singing sensation. Her style is crazy on point; I'm talking white lace, long red circle skirt, and big white bows in her hair. Also, did I mention... she is 6 years old? If you are wondering who Heavenly Joy is, you must make sure to check out her stupendous performance at the Republican National Convention on Thursday, because it's something else.
Heavenly Joy first burst onto the scene when she auditioned for America's Got Talent. She won over all of the judges on the show with her singing, her tap dancing and, I can only assume, her killer style. Judge Howard Stern, who seemed especially charmed by the pint-sized singer, asked young Heavenly Joy if she might come from a particularly musical family. It turns out, she is the daughter of famed music producer Rodney Jerkins, who has worked with such superstars as Justin Bieber, Lady Gaga, Rihanna, and Britney Spears. While Stern told Heavenly Joy that she had the chops to be a Spice Girl (similar to judge Mel B.), she reminded him, ""I don't know what that is... I wasn't born yet."
Stern was right — the girl clearly has a definite career ahead of her, Spice Girl or not (although can we just talk about how adorable a mini version of the Spice Girls would be?). Heavenly Joy performed a beautiful rendition of "America, The Beautiful" at the Republican National Convention and wowed the crowd.
The girl has already got her look down pat (it's all about the bows), she's got the talent, and she's got the family to back her up. Plus, now she's got the backing of the RNC, so that's got to be worth something.
Heavenly Joy likely comes by not only her talent but her penchant for singing competitions naturally: Her mother, Joy Enriquez, was on Star Search and won 11 performances. She went on to have a career as a back up singer for Whitney Houston and Mariah Carey, as well as doing some voice acting. She and Heavenly Joy even performed the song "Shine" together to support the National Breast Cancer Foundation.
Heavenly Joy, at only 6 years old, offered the embattled Republican National Convention a non-controversial moment on Thursday. A moment of peace, a moment to connect. A moment to enjoy the sweet innocence of a little girl and her pure voice and her honestly fabulous hair bows.
I don't know if Donald Trump will ever "Make America Great Again", but if you told me that was Heavenly Joy's plan... I don't know. I just might believe her.