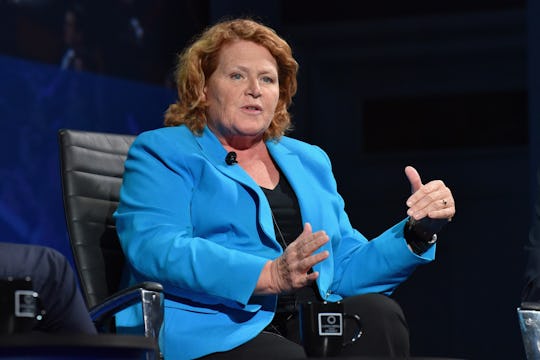 Bryan Bedder/Getty Images Entertainment/Getty Images
Who Is Heidi Heitkamp? She's Reportedly Under Consideration For A Cabinet Position
So I was scrolling through North Dakota Sen. Heidi Heitkamp's Twitter feed and I realized something. She seems nice. I like her. Her Tweets are liberally smattered with the word "folks," which is sort of charming, but she also seems to know what's up in general. Who exactly is Heidi Heitkamp, you ask? Well, she's a Democratic senator who is scheduled to meet with President-elect Donald Trump on Friday, reportedly to discuss a potential Cabinet position in Trump's upcoming administration.
Democratic Sen. Heidi Heitkamp, who won her seat in 2012 with less than a one percent margin (North Dakota is traditionally a deeply Republican state), confirmed that she is planning to meet with President-elect Trump on Friday and that she planned to keep an open mind about whatever Trump may or may not be offering, according to Talking Points Memo:
I appreciate the president-elect inviting me for a meeting. Every single day, my work is motivated first and foremost by how I can be most helpful to the people of North Dakota. They are my driving force and have been throughout my career in public service. Whatever job I do, I hope to work with the president-elect and all of my colleagues in Congress on both sides of the aisle to best support my state.
Heitkamp has been a strong supporter of the Keystone XL pipeline, which would run through the state of North Dakota if it were back on track. Her loyalty to the oil, gas, and coal industries should strongly endear her to Vice President-elect Mike Pence, who pledged during the presidential campaign that Trump would "end the war on coal." Heitkamp also supports fracking (the process of drilling down into the earth before a high-pressure water mixture is directed at the rock to release the gas inside), and has a strong relationship with the American Petroleum Institute.
Trump is reportedly "seriously intrigued" by the idea of adding a Democratic senator to his Cabinet. Heitkamp is the second Democrat to visit Trump Tower; Hawaii Democratic Rep. Tulsi Gabbard (once a supporter of Vermont Sen. Bernie Sanders) met with Trump 10 days ago.
While one senior Trump aide reportedly told The Daily Mail that Heitkamp is being considered for Secretary of Agriculture, Trump spokesman Jason Miller was reportedly tight-lipped with reporters about her upcoming visit to Trump Tower in New York City. Miller did refer to Heitkamp as "highly qualified" and a "proven leader," but wouldn't commit to any possible offers from the president-elect, saying in a phone call:
When some folks who are coming, [they] are coming in to provide their insight and their experience as to how to make the administration better and even more effective for the American people. Other folks are coming in for very specific positions.
Miller is suddenly pretty free and loose with the word "folks", much like Heitkamp's Twitter account. It feels like a sign.