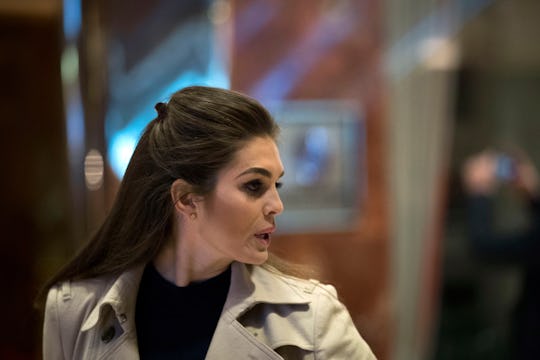 Drew Angerer/Getty Images News/Getty Images
Meet Hope Hicks, Trump's Interim Communications Director
A new change is coming to the White House communications team. According to The Washington Post, as the Trump administration works to replace former communications director Anthony Scaramucci, President Donald Trump's longtime adviser, Hope Hicks, will be temporarily taking on the role. But exactly who is Hope Hicks, and what are her qualifications for leading the White House communications team?
Hicks is currently Trump's senior communications adviser, but she's been by the president's side since long before his inauguration. She joined the Trump Organization as a public relations professional just a few years after graduating from Southern Methodist University, as The Washington Post reported. She had been working for a press firm in New York when she was assigned to work with one of its key clients, Ivanka Trump. Soon after, according to GQ, she was poached by Trump to work at the Trump Organization, and just months later, she had joined his campaign team.
According to Newsweek, Hicks helped craft Trump's response to the Access Hollywood tape scandal (in which the president infamously said he could grab women "by the p*ssy" because he was famous) as well as his response to Pope Francis' criticism of the Mexican border wall.
Before joining the Trump campaign, Hicks had zero political experience. But Trump told GQ last June that he'd been impressed with how quickly she took to her new role. "She was able to build political experience quickly. She was very natural," he told the magazine. "She was very natural when it comes to picking it up, and a lot of people can't pick it up, because it's so fast-moving."
Now, the 28-year-old from Connecticut will be temporarily filling in the empty spot left by Anthony Scaramucci, who was fired just 10 days after becoming White House communications director, according to CNN. He was there to replace Sean Spicer, who took over the role after Mike Dubke resigned from the role.
Romper reached out to the White House for comment regarding the change in the communications team, but did not hear back immediately. According to CNN, however, the White House confirmed the news and said the administration would "make an announcement on a permanent communications director at the appropriate time."
As many have noted, it will be interesting to see how things unfold for one of Trump's longest standing advisers in a role that's continually shifted. According to Vanity Fair, Hicks has been referred to as "the Trump whisperer" and Politico has said that's she's "untouchable" within the White House. How that will play out for her in her new role, however, remains to be seen.