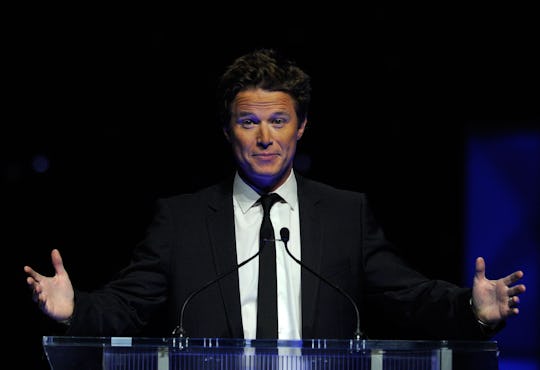 Ethan Miller/Getty Images Entertainment/Getty Images
Billy Bush's 'Access Hollywood' Explanation Is Not OK
On Sunday, The Hollywood Reporter released an in-depth interview with former Access Hollywood host Billy Bush, the first interview for the beleaguered entertainment personality since the infamous 2005 tape where Trump described grabbing women "by the p*ssy" was leaked to the public in October 2016. The magazine devoted nearly 5,000 words to Bush's apologia and yet, the piece contains exactly two mentions of the word "sorry" in a sea of otherwise effusive remorse. And that right there is the problem with Billy Bush's Access Hollywood explanation: He's sorrier for himself than he is for the people affected by his lewd commentary. Representatives for Bush did not immediately return Romper's request for comment.
To recap: In 2005, when Bush was still hosting Access Hollywood, he did an interview with Donald Trump, then host of The Apprentice, and Days of Our Lives actress Arianna Zucker. On the tape, Trump can be heard uttering disgusting comments including, "I moved on her like a b*tch" and "grab them by the p*ssy," in reference for how he treats women, as Bush can be heard laughing and goading him on. While the comments were made off-camera, their mics were still hot, capturing the audio in all its revolting glory. While Trump went on to win the presidential election, Bush was promptly fired from his brief stint on The TODAY Show.
At the time, Bush issued an apology statement — a whopping three sentences — the night the video went public in October. But as he told THR, he was denied the opportunity to make an on-air apology, and offered the chance to share what he would have said on air:
I am deeply embarrassed. I sit before you every morning, and I have on a different show [Access Hollywood Live] many mornings, and I hope you know the person you're looking at and have developed an opinion about is [the real me]. You aren't wrong about that. I am ashamed. Going forward, you can be sure that I will not participate in anything like that. And I will keep my eyes out and do what I can to stop it from happening.
Notice a glaring omission? Yeah, me too: Bush never actually says he's sorry in his imagined apology. Bush does share with THR that he was forced to own up to his daughters. His then 15-year-old daughter Mary called him and demanded to know, "...Why were you laughing at the things that he [Trump] was saying on that bus, Dad? They weren't funny." This was Bush's response to his daughter, as he recalled at the time:
I have no answer for that that's any good. I am really sorry. That was Dad in a bad moment a long time ago. You know me. I am really sorry that you had to hear and see that. I love you.
Ah, the old "apologizing without actually apologizing" switcheroo. You see, Bush was sorry that his daughter had to hear that — not that he was actually sorry for what he said. The semantic difference is huge, and says a lot about how Bush has actually been processing his embarrassing tumble from Tinseltown. Even as he apologized to his daughters for hearing what he said, Bush doesn't seem to understand that how he cajoled with Trump at the time is not only a symptom of rape culture, but perpetuates it as well. It's disturbingly akin to how many men who commit crimes against women show remorse: Sorry they got caught, and not sorry for what they actually did.
Bush imagines how he could have mulligan-ed the moment, saying, "I wish I had changed the topic," when referencing his laughter at Trump's comments and even his own lewd comments in the video. Let's be clear: Bush isn't saying he wished he changed the topic because it made him uncomfortable. If you watch the Trump tape, it's obvious Bush is willing to participate in — and perpetuate — rape cultural banter and machismo. And let's be honest: There's a reason sexual assault victims feel silenced, because too often, men are eager to "change the topic" rather than confront the issue of joking about sexual assault and rape head on. If Bush really wanted to stand up for women's rights, he could have shut Trump down in the moment, but this thought apparently doesn't occur to him when pondering a do-over.
What's worse: At no point in the nearly 5,000 word THR piece does Bush ever mention the women about whom he commented and laughed. He never says he's sorry to Zucker or Entertainment Tonight co-host Nancy O'Dell, who was also mentioned in the Trump tape. While Bush told THR he has communicated with O'Dell privately, he clarified that "I need to keep that between me and Nancy."
Bush spends a great deal of time talking about what he's been up to since he was fired. According to THR, he's spent a lot of time meditating, doing yoga, and even walked across hot coals with motivational speaker Tony Robbins. The magazine noted Bush is in the process of developing a series "designed to show audiences a deeper and more empathetic side to him." So, just in case you were wondering, THR appears to be just the first stop on the great Billy Bush Non-Apology Comeback Tour.
Bush has described the fallout from the Trump tape's release that he "fell apart," and was "hurt" by his firing from The TODAY Show. Yes, losing one's job is terrible, but if he really wanted to show just how sorry he was, he could have spoken out against rape culture publicly, or devoted his time to working with organizations that support victims of sexual assault and fighting rape culture. But nope: Gotta get to that Tony Robbins' workshop, pronto.
If Bush really wants to know what it's like to feel fallen apart and hurt, he should listen to actual sexual assault survivors who saw the Trump tape blasted all over the news seven months ago. Here's how one mom described her outrage at the tape — in the wake of her own daughter's sexual assault by a classmate:
So, this whole Donald Trump video leak is getting pretty personal to me. [my daughter] was assaulted last week by a fifth grader. He grabbed her right where Donald Trump said he likes to grab women. When she told him to stop he told her he'd grab her under her clothes if she told on him. Of COURSE she told on him. She did the exact right thing. So yesterday this boy approached her in the lunchroom and told her he knows where she lives and he's going to rape her mother.
Another victim shared on Twitter how seeing the Trump tape triggered traumatic flashbacks to her own rape:
So yes, Billy Bush is very, very sorry that what he said was leaked — but not so sorry for saying it. Sorrier still: Bush's hollow non-apology interview for The Hollywood Reporter shows that no matter how hard he's "soul-searching," how many downward dogs he does or coal pits he walks over, Bush just still doesn't get it.