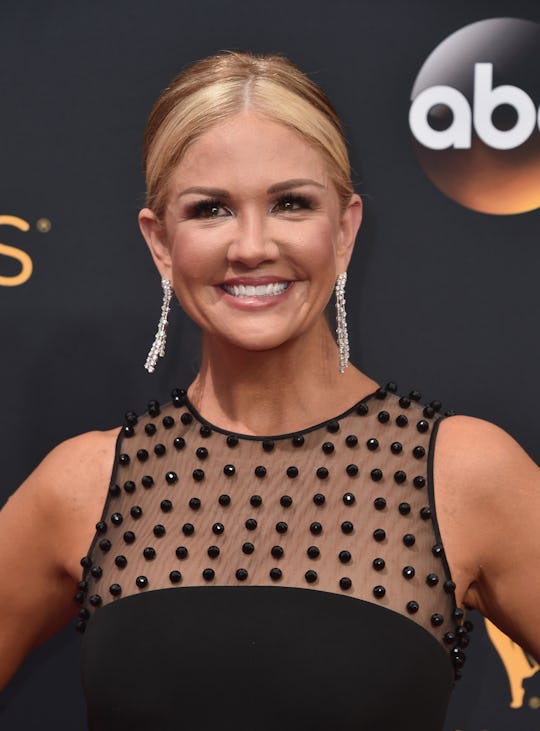 Alberto E. Rodriguez/Getty Images Entertainment/Getty Images
Who Is Nancy O'Dell? Donald Trump's 'Access Hollywood' Comments Involved Her
When a 2005 tape surfaced earlier in the day on Friday, October 7, it featured disturbing comments about Nancy O'Dell and Arianne Zucker made by Donald Trump and then-Access Hollywood co-host Billy Bush while filming. The hot mic comments, which are lewd and absolutely disgusting, have many wondering: Who is Nancy O'Dell? Donald Trump's Access Hollywood comments, which were given during the interview that was done in conjunction with the real-estate mogul's taping of Days of our Lives, featured incredibly crass, sexist remarks about the then-Entertainment Tonight co-host. The exchanges made between Trump and Banks also featured sexist remarks about how "hot" Days of our Lives star Arianne Zucker was, as well as comments about her legs. The tape, originally leaked by the Washington Post, features Trump talking about how he "did try to f*ck" O'Dell, while also mentioning that O'Dell was married. A statement given by Trump to the media following the reveal said this in defense of his incredibly inappropriate comments:
This was locker-room banter, a private conversation that took place many years ago. Bill Clinton has said far worse to me on the golf course — not even close. I apologize if anyone was offended.
Romper reached out to Trump for comment but did not hear back at the time of publication. Trump can be heard making the following comments about O'Dell on the tape:
I moved on her, and I failed. I'll admit it.
I did try and f*ck her. She was married.
And I moved on her very heavily. In fact, I took her out furniture shopping. She wanted to get some furniture. I said, 'I'll show you where they have some nice furniture.'
I moved on her like a bitch, but I couldn't get there. And she was married. Then all of a sudden I see her, she's now got the big phony tits and everything. She's totally changed her look.
Romper reached out O'Dell but did not hear back at the time of publication. In a statement by Banks distributed through NBC Universal, Banks said:
Obviously I'm embarrassed and ashamed. It's no excuse, but this happened eleven years ago — I was younger, less mature, and acted foolishly in playing along. I'm very sorry.
In a segment that aired Friday, October 7, Access Hollywood host Natalie Morales identified the woman in question was in fact, O'Dell. "There were seven other people on the bus with Mr. Trump and Billy Bush at the time," Morales told cameras, before rolling the tape on the 2005 interview. And though the comments made them are completely inexcusable, it's worth reminding that O'Dell is yet another victim in Donald Trump's disgusting tirade against women.
O'Dell is a successful, prominent fixture in the entertainment industry, one whose skills and performance have earned her a storied total of six Emmy nominations, with two Daytime Emmy wins, according to her IMDb page. She's had an incredibly successful TV career —with appearances in 24 titles — and noteworthy 10 film and video titles to her name. She is not, by any accounts, some woman Donald Trump once tried to sleep with. According to her IMDb profile, O'Dell's reporting in Charleston, South Carolina, led to a State Law Enforcement Division investigation, and she was honored by the Associated Press with the Best Report of the Year Award in South Carolina.
Her accolades and accomplishments go on to include investigative journalism and entertainment correspondence, where she's swiftly covered events like The Oscars, Emmys, Golden Globes, and Grammys. She's been a fixture in the Miss USA circuit as well as the Miss Universe pageant. Her philanthropic endeavors, according to her IMDb profile, include work with the March of Dimes, Best Buddies, The American Red Cross, and Childhelp USA. In 1998, she was inducted into the South Carolina Music and Entertainment Hall of Fame. And it's worth noting that O'Dell was the youngest member ever to earn that award.