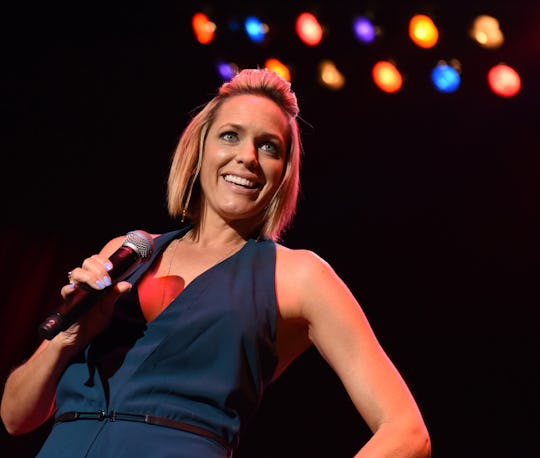 Vivien Killilea/Getty Images Entertainment/Getty Images
Who Is Arianne Zucker, The Woman Donald Trump & Billy Bush Mention On Tape?
On Friday, October 7, a video obtained by the Washington Post features disturbing commentary from Donald Trump and Billy Bush that features discussion of Arianne Zucker. The video follows Bush and Trump on an Access Hollywood interview from 2005 as Trump prepared for an upcoming segment on the the Days of Our Lives show. Anyone who's read the transcript of the interview may wonder: Who is Arianne Zucker, the woman Donald Trump and Billy Bush mention on tape during their Access Hollywood interview? And though it's a good question — it's absolutely the wrong one to ask, now or ever.
When Trump and Bush notice Zucker, according to the Washington Post's reporting, Bush reportedly says: "Your girl is hot as sh*t, in the purple." At the time, Zucker played Nicole Walker on the NBC daytime soap opera and received three Emmy nominations for her role, as well as the Soap Opera Digest Award, according to her IMDb page. The video, which the Post notes appears to have been shot in September of 2005, also features a comment from Trump in reference to Zucker: "Oh, nice legs, huh?" Romper reached out to Trump, Bush, and Zucker about the comments recorded on the tape but had not yet heard back at the time of publication. In a statement provided to the Washington Post, Trump said: "This was locker room banter. A private conversation that took place many years ago. Bill Clinton has said far worse to me on the golf course — not even close. I apologize if anyone was offended."
Here is the glaring problem with highlighting Zucker's presence in the tape: Like so many other women who've had their mere existence on planet earth treated as an object of desire by men like Trump, Zucker did not ask for this. By shifting the focus away from Trump's statements and onto Zucker's role in all of this, it provides just enough distraction for Trump to make an escape. It doesn't matter who Zucker is, what she wore, what she said, whether or not her voice can even be heard in the background, because if we've learned anything from his continued treatment of women over the course of his presidential campaign, it's that there will, unfortunately, be another Zucker. Maybe it'll only take a week. Maybe a month. Maybe all he'll need is a day.
Trump's deplorable treatment of women reveals just how little respect, appreciation, and care he has for us. Donald Trump has insulted Rosie O'Donnell, publicly embarrassed Megyn Kelly for asking him well-informed questions at a debate by claiming she had "blood coming out of her 'whatever,'" and made it his personal mission to defame Alicia Machado by alleging she had a sex tape in a series of tweets published early one morning. At every possible turn, he has used his fame and popularity to assert that the status of Democratic presidential nominee Hillary Clinton's marriage is proof enough that she "cannot lead." He has made his view of women as clear as the crystal he so swiftly brags about. He does not give one single, flying f*ck.
And if that is not enough to spell it out, let me reiterate: The Access Hollywood tape is a reminder that Donald Trump's hatred of women will not stop. Not today, not tomorrow, not a week from now. And if — and it's a big if — he assumes the presidency of the United States of America, Donald Trump will not suddenly about face and care about the treatment of women. The woman on the tape does not matter. The writing is on the wall. We just need to read it.