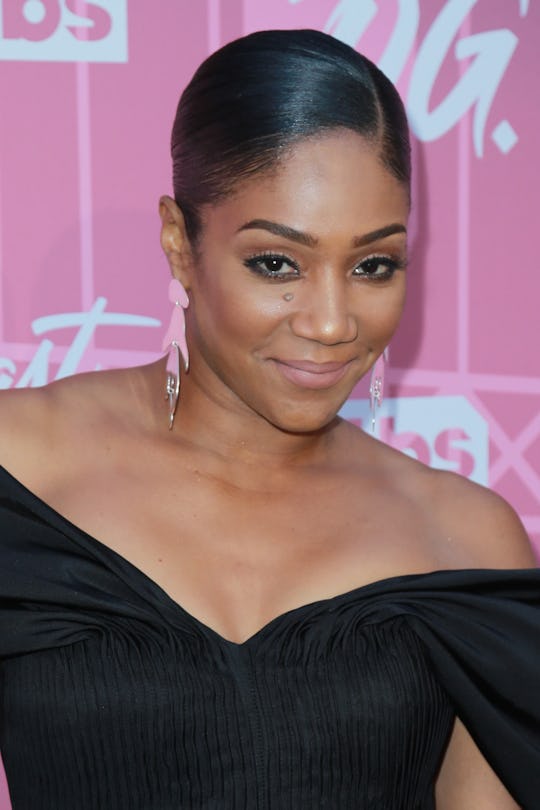 Leon Bennett/Getty Images Entertainment/Getty Images
The MTV Movie & TV Awards Host This Year Will Have You Excited For The Show
If you've been watching MTV for the past month, then you probably know that the actress who is hosting the MTV Movie & TV Awards is Tiffany Haddish, since her promos have been shown no less than a handful of times during any show at any given time. That's not to say I didn't love seeing them, but all of her promotional skits have been permanently ingrained into my memory and now I just can't wait to see her in all of her glory on-stage. I honestly haven't been this excited since I was 15-year-old me watching Jack Black and Sarah Michelle Gellar co-host back in 2002 and that's really saying something.
It really is the perfect time for Haddish to be hosting, though, as she's had a pretty stellar past year of her career. She was part of the cast of Girls Trip, which is up for the award for best movie and has garnered Haddish herself two nominations in the categories of scene stealer and best comedic performance. She's also in the upcoming Night School with Kevin Hart and, according to her IMDB profile, will be voicing characters in The Lego Movie 2: The Second Part and The Secret Life of Pets 2. I'm honestly certain that there isn't anything she can't do, so naturally, she had to add MTV Movie & TV Awards show host to that list.
Since this is Haddish and fans have come to expect a certain lack of a filter from her, she said in an interview with Entertainment Weekly that from the time she was asked to host the award show, she was already working on material.
"As soon as they asked me to do it, I was already off to the races with writing jokes and stuff and parodies," she revealed. "The first day that I sat down to the meet with the director, he was like, 'We just wanted to hear some of your ideas, if you have any,' and I guess he didn't think I was going to have any, and I just started going down the gauntlet of everything, and he was like, 'Whoa, whoa, whoa, I wasn't prepared for this. Most people don't have anything, they're just like, whatever you want me to do.' And I was like, 'Oh, I want to do whatever you want me to do, but also, I have these ideas.'" Um, yes please. She also said that as the host this year she hopes to give off a "Boss Bitch vibe" and I am totally here for it.
Other than having Haddish host her first-ever awards show, which is in itself amazing and a highlight of the MTV Movie & TV Awards, there are a few other changes this year that viewers are looking forward to. Instead of having categories for best female or male actor specifically, all categories are now gender neutral and instead of just honoring movies, the awards show is now in its second year of being dedicated to TV as well because, well, TV is amazing. It's basically as important as movies these days and, in some cases, some TV shows even have movie-sized budgets. Ahem, Game of Thrones.
There's also the suddenly sought after category of best musical moment, which includes nominees from both TV and movies, and is kind of a game changer. Some TV shows probably wouldn't be nearly as impactful without a good soundtrack or score and for this category, the point is to honor the best of the best. Included in the category for best musical moment are Girls Trip (once again, Haddish stands to bring home another award), Black-ish, Call Me by Your Name, Riverdale, Love, Simon, The Greatest Showman, Stranger Things, and This Is Us. The MTV Movie & TV Awards are sure to be, as the kids say, lit.