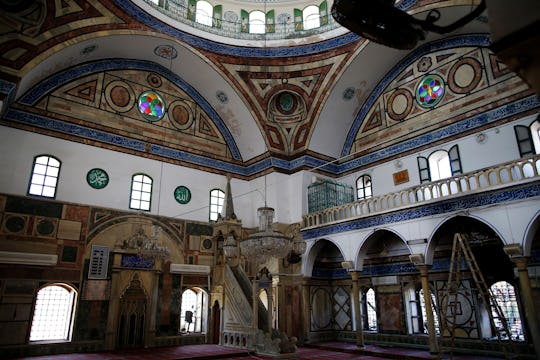 AHMAD GHARABLI/AFP/Getty Images
Who Is Imam Maulama Akonjee? The New York Religious Leader Was Shot In Broad Daylight
A Muslim religious leader and his assistant were walking together after prayers in a Queens, New York, mosque, and they were wearing religious clothing. Police claim they have not yet uncovered any evidence that the two were shot dead in broad daylight Saturday because of their faith. Some New York City Muslims are nevertheless outraged at what they consider a hate crime. In urging their fellow Americans to accept them and to distinguish them from radical Islamic terrorists who only purport to share their religion, prominent Muslims are remembering who Imam Maulama Akonjee and his associate Thara Uddin were as people and as valuable community members.
According to CNN, the two were walking together at about 1:50 p.m. ET in the Ozone Park neighborhood of Queens when an as-yet unidentified and un-apprehended suspect shot each in the head. Investigators initially investigated whether an earlier dispute at the mosque may have lead to the shooting, but they have not yet publicized what the shooter's motivation may have been.
While waiting for answers, those who knew the men are struggling to make sense of the violence against them. One man who knew Akonjee, 55, who had just delivered the afternoon service, described him as "a very quiet, docile, religious person." "A man like him cannot be shot dead like this," the unnamed person said, according to CBS News.
Both Akonjee and Uddin, 64, were fathers. A representative from the Council on American-Islamic Relations told CBS that the imam had seven children, while Uddin had three. (Another, conflicting, report indicates that each man had three children.) And Naima Akonjee, Akonjee's daughter, told the Associated Press that her father didn't have "any problems with anyone," and that he and Uddin were close friends who live on the same street and often walked together.
One law enforcement official, speaking to The New York Times anonymously, said it does seem as though the shooting was planned and that the two men killed were the intended victims. The fact that Akonjee was carrying about $1,000 in cash that was not stolen seems to indicate that the assailant — described as a man in his 30s or 40s with a "medium" complexion, dark hair, a beard, and glasses — did not intend to rob them. A partial video of the situation shows the gunman following his two victims, and witness then heard several shots. The actual shooting occurred off-camera, though.
Although there are no confirmed reports that the men were killed because they were Muslims, the shooting does come at a time of escalating Islamophobia in the United States and elsewhere, as well as rising anti-Muslim rhetoric by Republican presidential candidate Donald Trump, who is now infamous for having called for a ban on Muslim immigrants to the United States after a catastrophic terrorist attack in Paris late last year.
"That's not what America is about," local resident Khairul Islam told The New York Daily News about the death of the imam and his assistant. "We blame Donald Trump for this ... Trump and his drama has created Islamophobia."
No matter why it happened, the execution of these two men — regardless of whether or not their religion played a factor — is unacceptable. Police will continue to attempt to unravel exactly what happened and why. Bringing the person who did this to justice won't completely assuage the strained relations between some Americans and the Muslim community, but it may help.