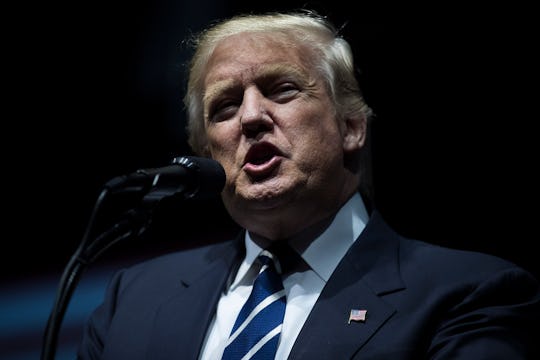 Drew Angerer/Getty Images News/Getty Images
Who Is In Charge Of The Presidential Inauguration Committee? They Are Barring Protesters
The Presidential Inauguration should be one of the most watched live events in recent memory. We are talking Red Wedding huge except with real people and President-elect Donald Trump's hair. As Trump makes the final move to becoming the 45th President of the United States, all eyes will be on him. But the people in charge of the Presidential Inauguration Committee are hoping certain eyes are planning to stay home to watch the festivities; they have blocked access to the Lincoln Memorial where the Million Women's March on Washington, among other protests, is set to take place.
The Million Women March Facebook page started the morning after the election. It could potentially be the largest protest to descend on the inauguration, with at least 140,000 people planning to attend. The group's Facebook page explained the reason behind the protest:
The rhetoric of the past election cycle has insulted, demonized, and threatened many of us. The Women's March on Washington will send a bold message to our new administration on their first day in office, and to the world that women's rights are human rights. We stand together, recognizing that defending the most marginalized among us is defending all of us.
While protesters will be permitted to congregate along Pennsylvania Avenue as the Inauguration Parade goes by, much of the area around the National Mall, The Washington Monument, and Lincoln Memorial will be off limits to those without permits, and the National Park Service (acting on behalf of the Presidential Inauguration Committee) filed a "massive omnibus blocking permit" on Thursday, according to a report by The Guardian. This blocking permit will be in effect for weeks both before and after the Jan. 20 inauguration.
As protesters continue to prepare their marches during the Presidential Inauguration, the official Inauguration Committee is hard at work. The committee is comprised of:
Chairman - Roy Blunt
Speaker of the House - Paul Ryan
House Democratic Leader - Nancy Pelosi
Senate Majority Leader - Mitch McConnell
House Majority Leader - Kevin McCarthy
Senator - Chuck Schumer
The bipartisan Inauguration Committee has come under fire in recent weeks for offering donors huge perks in exchange for massive contributions. For instance, anyone who donates one million dollars is invited to a candlelight dinner with President-elect Trump and his wife, Melania. Why exactly the dinner is by candlelight, I'm not sure, but there you have it.
Other perks include tickets to a "ladies' luncheon", where donors will enjoy "an opportunity to meet the ladies of the first families." Not to mention the prime seating for the swearing-in, the luxurious lodgings, etc.
Now if they could just keep those pesky protesters from ruining a perfectly decadent day, right?