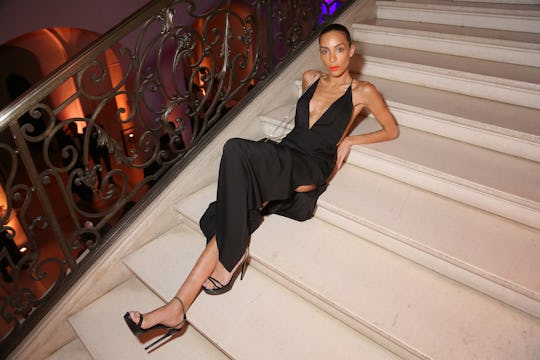 Victor Boyko/Getty Images Entertainment/Getty Images
Introducing Ines Rau, The First-Ever Transgender Playmate
Even if you don't diligently read Playboy every time a new issue drops, you probably want to scoop up the November/December 2017 version. That's because, nestled in the 100-page issue of the iconic men's magazine is a history-making spread. You might not pick out the breakthrough images by simply flipping through the pages, though, because model Ines Rau shares so many qualities with the Playmates who came before her. She's tall and gorgeous; she stares seductively into the camera. But, in the context of Playboy, there's also something unprecedented about who Ines Rau is: The 26-year-old French high-fashion model is transgender, and she's the first openly trans woman to earn the coveted title of "Playmate."
Of course, becoming a Playmate is the ultimate goal for so many models, but it's extra notable that Rau is adding that to her list of accomplishments, simply because she's the first trans model to do so, according to HuffPost.
The issue in which Rau's pictorial and centerfold will appear introduces a new element in another, unrelated, way, too. According to Glamour, the magazine's founder, Hugh Hefner — who died last month at the age of 91 — will be the cover model, so to speak, of his own tribute issue. It will be the first time in the magazine's 64 years that a man's occupied the cover without a woman by his side, as Glamour noted.
Hefner has been in the public zeitgeist for decades, while Rau is relatively new to the scene. The juxtaposition introduced between the two — the long-established household name and the trailblazing relative newcomer — taking up such prime real estate in the same issue is pretty striking. But even though Rau's title of Playmate is raising her profile as a significant newcomer, she's not a total newbie. She has appeared in Vogue Italia and W Magazine, for example, and, according to Billboard, has commanded the runway for top fashion designers such as Balmain.
And Rau has even made a splash in Playboy before. In May 2014, the model posed totally nude for the "Playboy A-Z" special edition. Her spread, Evolution, "surveys humanity's halting shift toward acceptance of gender identities beyond the male-female binary," according to the magazine. Since then, Playboy has banished nudity on its hallowed pages. So, Rau's more recent appearance, photographed by Derek Kettela, showcases her in a plain white bra and panties, along with white socks and tennis shoes.
As she told Playboy in an interview, Rau, who was born in Paris, is excited about celebrating all parts of herself — especially the fact that she is trans:
I lived a long time without saying I was transgender. I dated a lot and almost forgot. I was scared of never finding a boyfriend and being seen as weird. Then I was like, You know, you should just be who you are. It's a salvation to speak the truth about yourself, whether it's your gender, sexuality, whatever. The people who reject you aren't worth it. It's not about being loved by others; it's about loving yourself.
Rau considered her first photoshoot for Playboy to be a celebration of her own coming out. Well, now, she has arrived. When the issue drops, she'll be ogled and envied, and she'll officially join the exclusive club of the Playmates. And, once again, she'll probably reflect on what it took for her to get to where she is today, as she did during the shoot. "When I was doing this shoot, I was thinking of all those hard days in my childhood," she said, according to Playboy. "And now everything happening gives me so much joy and happiness."
Watch Romper's new video series, Romper's Doula Diaries:
Check out the entire Romper's Doula Diaries series and other videos on Facebook and the Bustle app across Apple TV, Roku, and Amazon Fire TV.