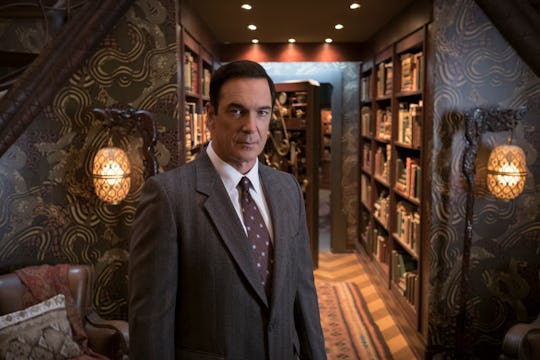 Joe Lederer/Netflix
'A Series Of Unfortunate Events' Season 2 Introduces A Figure From Lemony Snicket's Past
The second season of A Series of Unfortunate Events will hopefully begin to delve deeper into the mysterious deaths of the Baudelaire parents and their connection to the shadowy organization V.F.D. It's already introducing more important characters from the past who might have an impact on the future of the story. One such character appears in Episode 2, announcing himself as Jacques Snicket. But who is Jacques Snicket on ASOUE?
His name might be the very first tip-off about his identity, because he shares a surname with the narrator of the show and author of the book series it's based on: Lemony Snicket, making Jacques his brother. He arrives in "The Austere Academy: Part Two" in the nick of time to rescue V.F.D. member Larry from meeting a chilly end in the freezer of the Prufrock Preparatory Academy. He's framed heroically from the very first moment, silhouetted in the doorway almost like a superhero. He saves Larry, sasses bratty schoolgirl Carmelita Spatz, and vows to return to help the Baudelaires as soon as he can. There also seems to be something going on between him and Lemony, who implies in his narration that the two are estranged.
The episode doesn't have much background to offer on Jacques, who is played by Nathan Fillion, but the books could be a bit more informative. Warning: book spoilers ahead!
Like the Baudelaire children, Jacques is one of three: he is the elder brother of Lemony and twin of Kit Snicket, who may make her own appearance at some point in Season 2. And like the Baudelaire parents, he is part of the V.F.D., which stands for — though the Baudelaires don't know it yet — Volunteer Fire Department. The V.F.D. is a secret society that many of the adults belong to, and their purpose is summed up by Kit in The Penultimate Peril:
V.F.D. was once a united group of volunteers, trying to extinguish fires - both literally and figuratively. But now there are two groups of bitter enemies.
Jacques does appear to be somewhat of a heroic figure, or at least a helpful one, but all that means in the world of ASOUE is that danger lurks around every corner for him. He tracks down Violet, Sunny, and Klaus though he is unable to assist them in several instances, and he helps the presumed-dead Quigley Quagmire when they cross paths. Unfortunately, before Jacques can impart the necessary knowledge to aid the Baudelaires, he meets his own unfortunate end.
Due to similarities in their appearance, which include a single eyebrow and the tattoo of an eye, Jacques is mistaken for Count Olaf in the book The Vile Village. He is going to be burnt at the stake as a result, but is instead murdered by Olaf in his jail cell. The Baudelaire siblings are framed for the crime in another of Olaf's nefarious schemes. That storyline is hinted at in a behind-the-scenes video for Season 2. Though it's quick, one can see a newspaper headline declaring the Baudelaires murderers, so it all seems to fit.
The Vile Village is one of the books being adapted for the second season, so it's fair to assume that Jacques' arc will play out much like it did in the original series. Perhaps the addition of Fillion to the cast will increase Jacques' presence or fill out his backstory further, but it doesn't seem as though his fate has changed. Viewers can always hope for a surprise twist that keeps one of the few not-awful adults around, but as the show has reminded its audience many times: nothing good is going to happen here. It might be best not to get too attached to Jacques.
Check out Romper's new video series, Romper's Doula Diaries:
Watch full episodes of Romper's Doula Diaries on Facebook Watch.