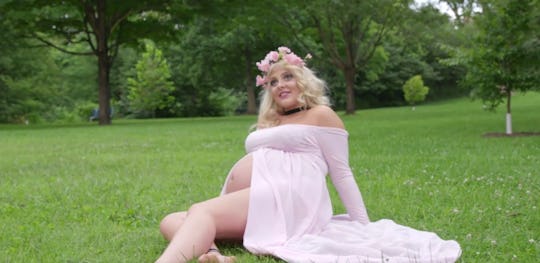 MTV
Jade Is In A Committed Relationship On 'Teen Mom: Young And Pregnant'
MTV has introduced its latest spinoff to the popular Teen Mom franchise, this one is called Teen Mom: Young and Pregnant, which introduces viewers to a whole new cast of moms, including their families and boyfriends. One of these women is Jade, whose troubled family relationships will be a big part of her story. So who is Jade dating on Teen Mom: Young and Pregnant? The show introduces the audience to her boyfriend Sean, who seems honestly pretty excited about the whole being a dad thing.
In the full official description, Jade is described as having an unstable relationship with her parents, and being used to taking care of them. Now that she's pregnant, she's hoping her parents can step up and help her take care of her new baby alongside her boyfriend, Sean. Though Jade and Sean appear to have a great relationship, Jade's mom doesn't appear to be fully on board with the relationship judging by her "Meet Jade" segment. In the video, Jade's mom described Sean as a nice guy for someone else's daughter, citing his lack of employment and ambition as a reason for her disapproval. Jade responded to this by saying that her mom doesn't have a job or ambition for herself.
In the same video, Sean described Jade as the kind of person who "isn't afraid to tell you how she feels." He is also clearly ready to step up and be a dad. Jade described how upset she was when she first found out she was pregnant, contrasted with Sean who was excited. "I really do want nothing more than to have a family," Sean said. "Not with just anybody but with Jade." So at the very least it definitely looks like this couple loves each other and are getting ready to start their new family.
As far as whether the two are still together now after the show has started airing and their little daughter Kloie has been born, that's a little more difficult to discern. It looks like Jade deleted her old Instagram account and started a new one. This account is pretty much exclusively devoted to pictures of her baby daughter with the occasional mirror selfie or promotions for the show. Sean is nowhere to be seen on at least this form of social media. Looking to her Twitter is much the same.
Though Jade appears very active on Twitter, most of her tweets revolve around her baby, which is kind of to be expected honestly. She has, however, posted a couple of things about Sean recently, so I feel comfortable saying the couple are most likely still together. At the very least I hope they're still together since I love a love story and from the looks of Jade's rocky relationship with her parents, she could use a solid support system from her baby's father. So you know, fingers crossed.
The show has already shown how Jade has to deal with a difficult relationship with her mom and dad. For example in one clip Jade explains how stressed she's been after finding out her father failed a drug test and was fired from his job at the same time she and Sean were moving into a new apartment to prepare for Kloie. Jade was shown talking on the phone with her mom and trying to encourage her to find a job that she's motivated to go to every day, while Jade's mom seemed worried that Jade would deny her the ability to see her grandchild.
I only hope that everything works out for Jade and her little family. And I hope she and Sean are still tackling the whole wonderful (and sometimes very difficult) world of parenting together.
Check out Romper's new video series, Romper's Doula Diaries:
Watch full episodes of Romper's Doula Diaries on Facebook Watch.