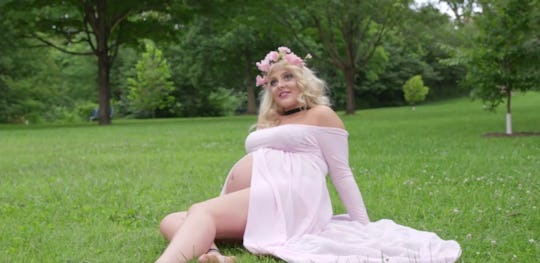 MTV
Jade From 'Teen Mom: Young And Pregnant' Makes Her Daughter A Priority
It's been almost 10 years since MTV launched Teen Mom, which was a spin-off of 16 & Pregnant, but fans are still closely following the lives of the women whose stories have been filmed for years. With the newest series, Teen Mom: Young and Pregnant, set to premiere this week, fans are likely going to be just as curious about this new group of new young mothers, including 20-year-old Jade Cline. But who is Jade on Teen Mom: Young and Pregnant? The Teen Mom franchise has become a staple of MTV over the years and even spawned two other Teen Mom spin-offs, and while Teen Mom 3 was short-lived, fans are still dedicated to the stories from Teen Mom 2 and Teen Mom OG.
The newest show is meant to showcase the struggles of having and raising a child at a young age. Enter Jade, who comes from an unstable home but is apparently trying to make things different for her daughter with the help of her boyfriend Sean Austin. According to what looks like Jade's Instagram, she and Sean are still very much together, which can be a challenge for any young couple, let alone one who went through an unplanned pregnancy together.
Sean's Instagram account is private at this time, but it does have a link to his Soundcloud account, which showcases some of his work as a rapper under the name of LilFoot. And if the Instagram account really is his, he seems to have a lot of respect for Jade, as the bio says, "My daughter is my motivation, if she becomes half the woman her mother is, ill be very proud." Since Teen Mom: Young and Pregnant is scheduled to premiere on March 12, chances are, they started filming this new group of young women early on in their pregnancies, just like the series that started it all, 16 & Pregnant, as Jade's daughter Kloie is now just five months old.
There's still a lot about these new group of moms to learn since the series is just getting started, but from the preview alone for Teen Mom: Young and Pregnant, you can see that Jade has been through a lot with her family even before her pregnancy. At one point in the trailer she says, "I just hope my parents put drug use in the past." In the trailer she also has on a sweatshirt for Indiana University, so Jade is likely an Indiana native and she wouldn't be the first from the franchise to hail from that state, like Teen Mom's Amber Portwood, who's also from Indiana.
Despite being a new mom who seems totally in love with her baby and now the idea of motherhood, Jade's audition tape for Teen Mom: Young and Pregnant shows a much different side of her admitting that before she became pregnant, she would openly judge other young women with babies or pregnancies.
"I have dreams," she said in the video. "I have things I want to do." Even though she seems to be enjoying motherhood now, viewers will likely see Jade struggle with putting those dreams on the back burner or altering them to better fit her new life as a young mom. For now, it seems, Jade is working as a server, or at least that's what it says on what looks to be her LinkedIn profile.
I honestly can't remember how I took care of myself and worked and went to school at age 20. So it's definitely going to be a different kind of journey to watch the women of Teen Mom: Young and Pregnant navigate their way through this new big learning curve in their lives, especially as it's very different from watching girls under the age of 17 discover they're pregnant.
Check out Romper's new video series, Romper's Doula Diaries:
Watch full episodes of Romper's Doula Diaries on Facebook Watch.