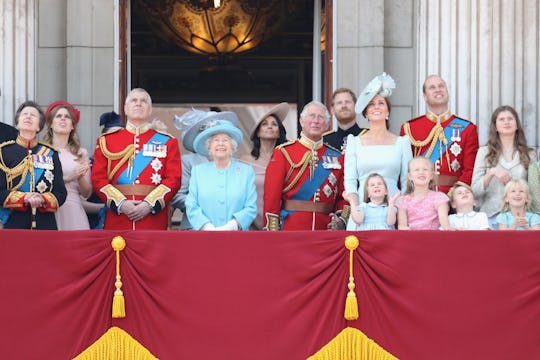 Chris Jackson/Getty Images News/Getty Images
Here's Everything We Know About James Coyle, Lord Mountbatten's Fiancé
You could already call 2018 the year of royal weddings, and it's only just begun. Just months after Prince Harry married Meghan Markle, the Queen's cousin, Lord Ivar Mountbatten, announced that he would be getting married as well. However, there's one significant detail that makes it another historic moment: the couple will be the first in the royal family to have a same-sex union. Of course, it's a big deal for members of the LGBTQ community and Britain as a whole. But given that the pair typically keeps a pretty low profile, many may still be wondering: Who is James Coyle? Here's everything we know about his and Lord Mountbatten's relationship and wedding plans.
Newsweek reported that the couple will have a small ceremony in a private chapel on his estate in Devon, England. After they exchange vows, they will have a larger (but still intimate) reception for 120 people. "We're not cutting cakes. We're not having a first dance," Coyle told the paper. "We'll be pronounced partners in marriage, but the ceremony itself will be very small. It's just for the girls and close family and friends." The couple also mentioned that they will be putting their own spin on wedding traditions, such as possibly cutting cheese instead of cake.
Given that Lord Mountbatten was previously married to Lady Penny Mountbatten, he has said that he is getting married again for the sake of his partner. Mountbatten told The Daily Mail: "For me, what's interesting is I don't need to get married because I've been there, done that and have my wonderful children; but I'm pushing it because I think it's important for him. James hasn't had the stable life I have. I want to be able to give [him] that."
Another interesting detail about the couple's upcoming wedding ceremony is that Mountbatten's ex-wife, Penny, will be giving him away at the altar. In an interview with The Daily Mail, she opened up about how it was their daughter's idea to have her be part of the ceremony. (The couple has three kids together, Ella, 22, Alix, 20, and Luli, 15, The Daily Mail reported.) "It makes me feel quite emotional. I'm really very touched," she said, explaining just how happy she is that Coyle will be joining the family:
What I don't think Ivar realises is how much he has changed as a man since he 'came out'. James is hugely responsible for that because he's so much fun. Ivar is so much more relaxed these days. He's so much kinder. He's become a great cook... He probably wasn't even aware that by keeping his sexuality a secret it was really quite tormenting him. Now it's 'out' he's a completely different person. Everybody says they've never seen him happier.
In the same Daily Mail interview, the couple opened up about how they met, and a little more about their personal lives. Coyle, an airline director, was introduced to Mountbatten at a Swiss ski resort, and their meeting was what prompted Mountbatten to come out as gay back in 2016. Pink News reported that he told The Daily Mail that he "knew from the age of eight" that he was attracted to men. "You're either gay or you're not," he said at the time.
Though the Queen won't be attending the wedding (Mountbatten told The Daily Mail in the aforementioned interview: "Sadly they can't come to the wedding. Their diaries are arranged months in advance and they're not around, but they adore James") it is clear that she does support the marriage. Homosexual relations were decriminalized in the country back in 1967, The Guardian reported, but it wasn't until 2013 that the Queen signed the Royal Assent for gay marriage, which offered royal approval to LGBT couples, The Independent reported.
The date of Mountbatten and Coyle's wedding has yet to be released to the public.