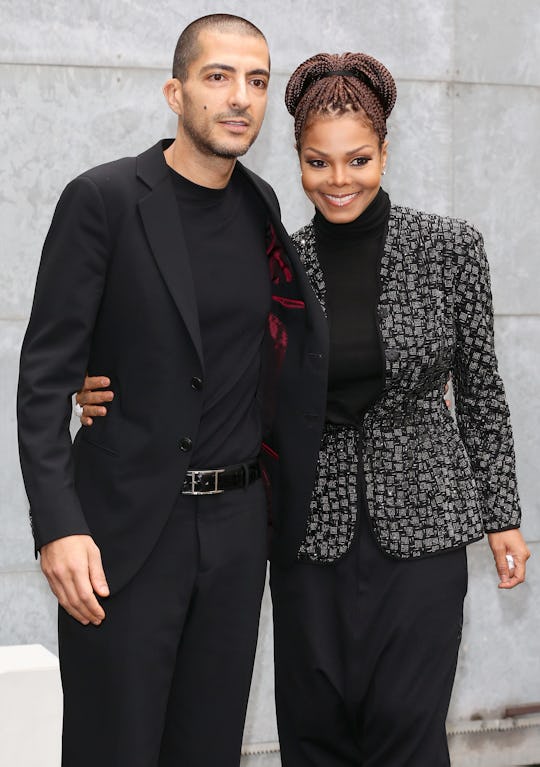 Vittorio Zunino Celotto/Getty Images Entertainment/Getty Images
Who Is Janet Jackson's Husband? Wissam Al Mana Is A Successful Qatari Businessman
Last month, Janet Jackson postponed her tour in order to begin planning her family with husband Wissam Al Mana. Although the pair has consistently avoided the public eye, Entertainment Tonight reported Wednesday that the 49-year-old is pregnant with her first child. Jackson is, of course, well-known as the younger sister of superstar Michael Jackson as well as a talented pop and R&B singer in her own right, but her husband's is certainly not a household name. The two married clandestinely in 2012, but who is Janet Jackson's husband, really, and what do we know about him beyond the gossip column mentions?
Al Mana, 41, is a Qatari businessman with a list of accomplishments all his own. Although he has described himself as a "very, very private person" — "I don't have Facebook, I don't have Twitter ... I don't even have WhatsApp!" he told Entrepreneur in 2014 — he manages 55 companies and is reportedly worth $1 billion. He owns the namesake company, Al Mana, with his two brothers, and their venture operate in eight countries, from Saudi Arabia to Oman to Ireland, and span fashion, media, engineering, and real estate.
But he's not just some money-churning automaton. When Al Mana and Jackson were dating in 2010, he hailed her as "a very special and talented woman who never ceases to amaze me." And Jackson thinks of him as "my love," dedicating "No Sleep" to him on Twitter last year.
Family is also clearly important to Al Mana. He told Entrepreneur that he and Jackson enjoy traveling together. "We love travelling... we love going to nice, exotic places far away from the world and from prying eyes," he said. And during in interview with Entrepreneur's Frida Chaaban, he explained that he had "always" wanted to be involved with the family business:
My father passed away when I was quite young, and I felt that it was my duty to kind of pick up the flag and to continue the business, and try to continue the legacy and the family name. It's in our blood, we're merchants. When I was a child, I looked at my father's passport and his occupation said 'Merchant'. I asked my mom, and she explained that we are merchants. We take pride in that, it's our heritage.
This dedication to family seems to indicate that he'll acclimate well to the role of father, now that he and Jackson are expecting. Neither of the two has publicly confirmed the pregnancy, but Jackson told Harper's Bazaar in 2009 that she did want to have children." I think that if I'm really supposed to have kids, it will happen, if that's God's plan for me," she said.
And with her third husband, perhaps it really was supposed to happen — and that their lifestyle may change as their family grows. Jackson is already his "dream woman", so the new addition to the family was likely well-planned (if the video of Jackson announcing the two were planning their family is any indication), and considering his or her parents' successful career paths, will be quite multi-talented as well.