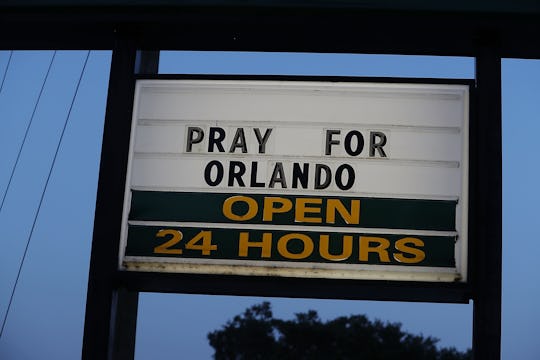 Joe Raedle/Getty Images News/Getty Images
Who Is Jason Benjamin Josaphat? He Was Ready To Take On The World
Nineteen is such a great age. Everything is still ahead of you, and the world is a perfect blank page. You can still become whatever you want, whoever you want. You are still in the process of deciding on the best version of you, and the smartest people among us understand what a short-lived gift that can truly be. I have a feeling Jason Josaphat might have been one of those people. In the wake of the horrendous Orlando shootings, answering the question of who is Jason Benjamin Josaphat has become an unfortunate period at the end of a sentence. In a better world, Josaphat's story should just be getting started.
Josaphat was a 19-year-old with a wide variety of eclectic interests. His uncle, Christopher Long, told the Orlando Sentinel that Josaphat loved to take photos. He was invested in personal fitness, and he had recently begun to take courses in computer sciences at Valencia College.
"He mentioned to me that he wanted to start taking pictures, he had a passion for photography," Long told the Sentinel. "He was just real special."
An Orlando native, Josaphat was a beloved child to his parents, Myrlande Bebe and Jackson Josaphat. "They both were very, very, very much proud of him." Long told the Orlando Sentinel.
Josaphat was the second youngest victim of the Orlando shooting at the Pulse nightclub on Sunday. His aunt, Josette Desile, told the Orlando Sentinel that he was on the phone with his mother when lone gunman Omar Mateen entered the nightclub and proceeded to massacre 49 people, injuring 53 others in the process. When Josaphat told his mother what was happening she called 911 and kept her son on the line. Throughout Sunday, the family combed social media sites like Twitter and Facebook for updates on their boy, and received the tragic news on Monday that Josaphat had been murdered.
"Everybody is just very, very hurt... You never think it would be you until it is, until it happens to one of your family members," Long told the Orlando Sentinel. "Right now, the whole family is grieving."
His family remembers him as soft spoken, a kind person who his aunt said was "always helpful, always willing to help someone in need," his aunt told the Sentinel.
Josaphat's alma mater, Southern Technical College, is in the process of organizing a blood drive with OneBlood at its Orlando Campus to honor the fallen teen's name.
There was a world out there waiting for Jason Josaphat. A world waiting to see what sort of person he would grow into. Would he become a photographer? A computer programmer? A personal trainer? He had options.
And now he is gone. And so we remember his name.